The project is researching the history of women in football in the local area and talking to a wide range of local women and girls of different ages, backgrounds and nationalities about their experiences of football. It was kicked off in 2021 by FURD staff and volunteers to coincide with the centenary of the FA ban on women playing football on FA-affiliated pitches in 1921 and the 50th anniversary of the lifting of the ban in 1971. The name 'Stoppage Time' refers to all the times that women and girls have been stopped from playing football.
The top photo is of Vickers Works East Projectile Shop football team at Vickers Sports ground, Sheffield, Boxing Day 1916.
Below is a summary of Sheffield women's football history.
Sheffield women's football history
The 19th century
Sheffield has a proud football heritage. Sheffield Foot Ball Club, the world's oldest existing football club, was formed in 1857. Some sources claim that a woman joined the club in 1859 and that by 1864 over twenty women were members.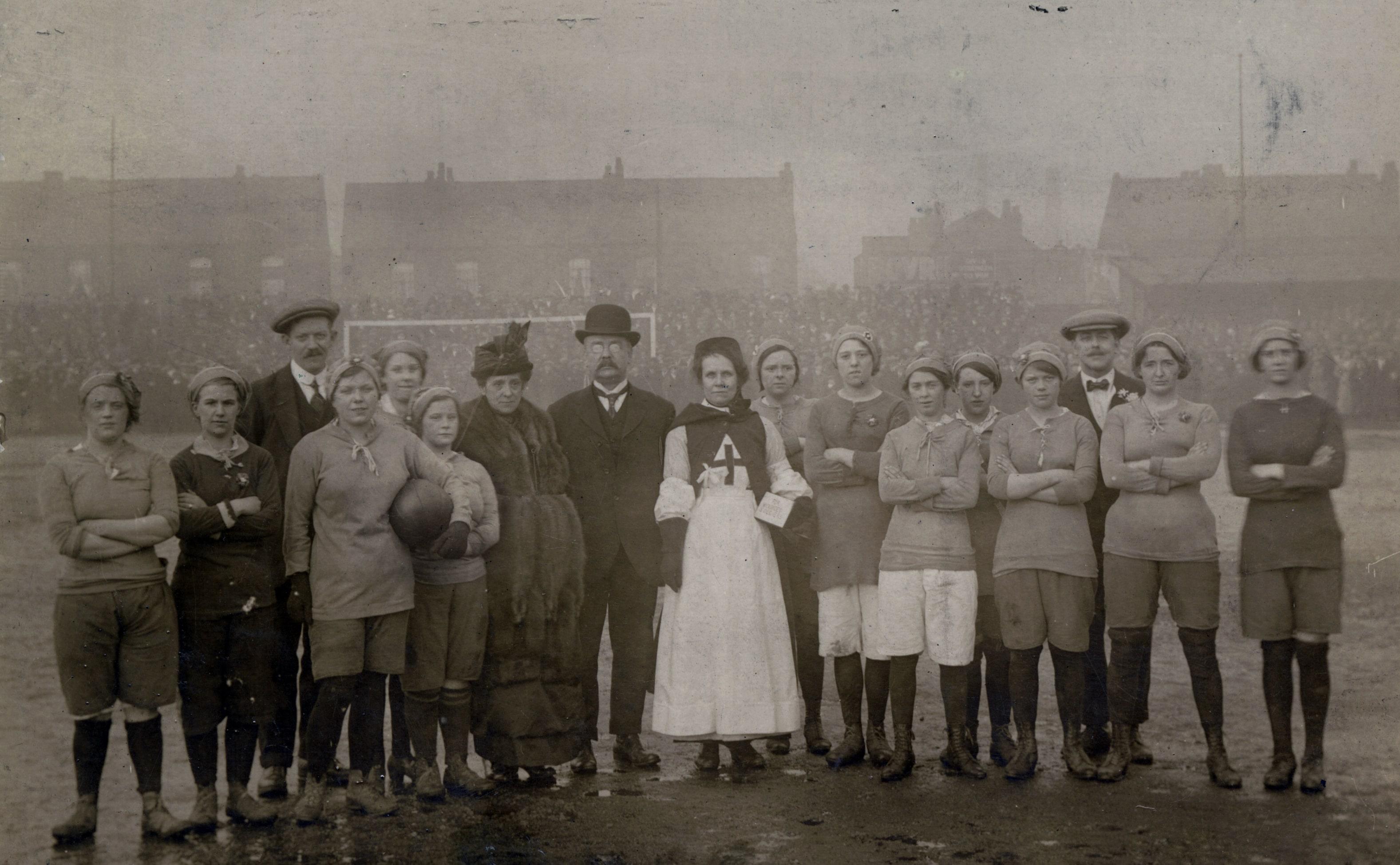 A 1875 photo of a Sheffield team includes two unnamed women. Who were they?
It was quite common for women to attend men's football matches at this time.
On 30th May 1881, 1,000 spectators paid to watch two touring teams of women calling themselves 'England' and 'Scotland' at the Queen's Hotel Grounds, Hillsborough, Sheffield. 'England' won 2-1. The Sheffield Independent called it a "football farce". The tour had been described in newspapers as a "scandalous enterprise" with calls for it to be banned.
On 6th May 1895, two touring teams from the British Ladies Football Club played at the Sheaf House ground, Bramall Lane, Sheffield, watched by 3,000 paying spectators.
The First World War 1914-1918
The First World War was a boom time for women's football.
During the First World War of 1914-1918, thousands of women worked in munitions factories around Sheffield and Rotherham. Many of the factories developed women's football teams, which played fundraisers in front of large crowds for wounded soldiers and the war effort.
On Boxing Day 1916, 10,000 watched a match between munitions workers from Vickers Works Projectile Shops in Sheffield at Vickers sports ground, Sheffield. The match raised £100 for the Wounded Colliers Fund.
On May 28th 1917, a team from Vickers Works, Sheffield played Barnsley Ladies at Sheffield Wednesday's Hillsborough ground during a charity sports event in front of around 17,000.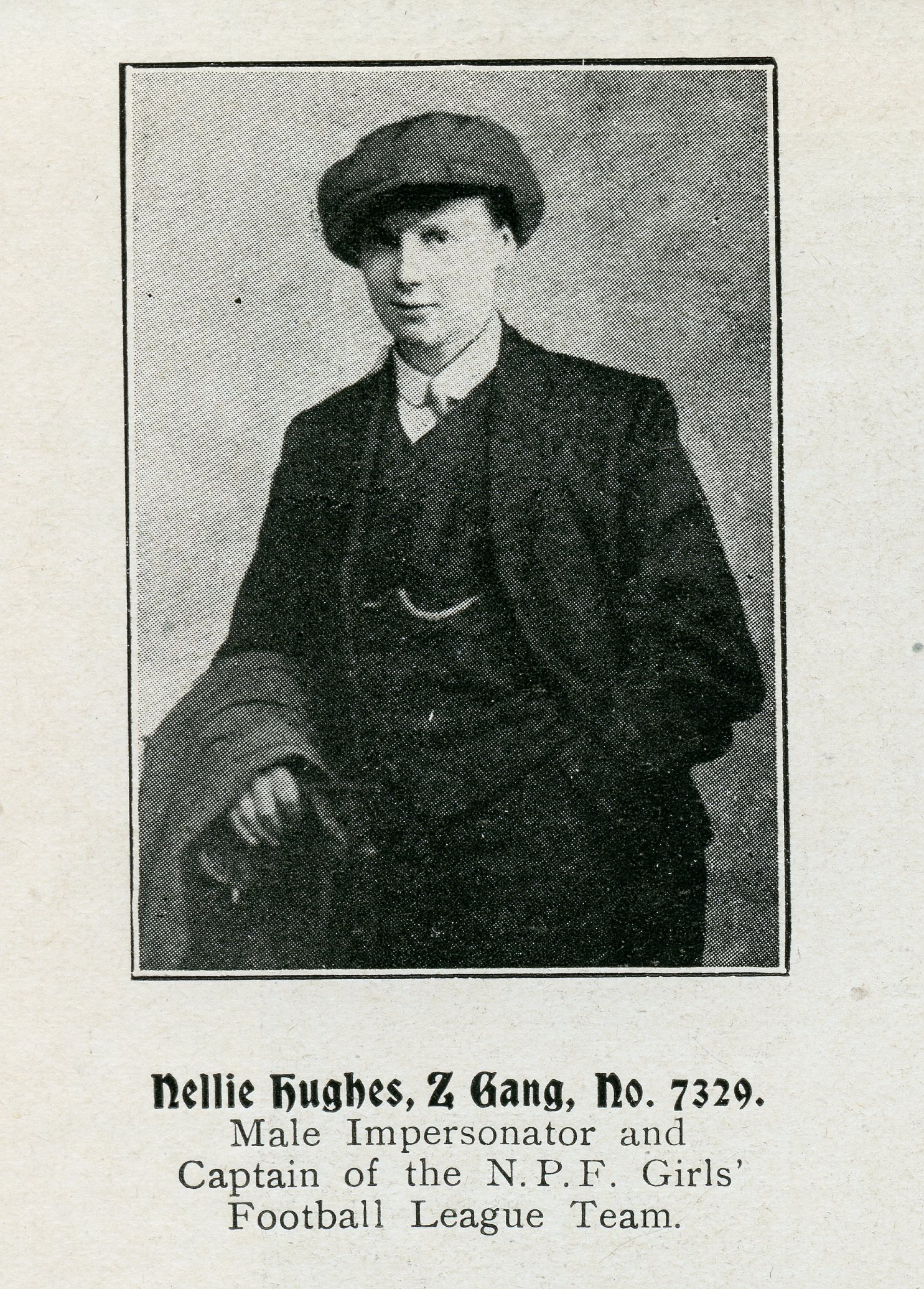 In the 1917-1918 season there was a South Yorkshire Ladies League and the Sugden Challenge Cup competition. Barnsley National Shell factory beat Templeborough National Projectile Factory of Sheffield 3-2 at Barnsley FC's ground Oakwell in the final of the Sugden Challenge Cup in April 1918.
This picture shows a South Yorkshire Ladies Football League Cup Winners medal from 1918 won by Alice Wardle. Miss Wardle played for the Barnsley Shell Factory team where she worked as an engineer, machining the shell cases.
Templeborough NPF encouraged women to play football and ran its own internal Factory League for inter-gang matches.
Other local teams included Cammell Lairds, Tinsley Works and East Gun Works (both part of Norfolk and Atlas Works) and Cooke's (Tinsley).
1921
When the war ended in 1918, so did most women's football, as women were no longer working in the factories where the teams were formed, and were generally expected to return to working in the home.
Interest in women's football did not entirely disappear, however. On 4th May 1921, Dick, Kerr Ladies of Preston played Atalanta Ladies of Huddersfield at Hillsborough Stadium, Sheffield, in front of around 22,000 spectators. The match raised nearly £1,200 for Sheffield and Preston hospitals and the Railway Benevolent Fund. Atalanta Ladies Sports Club was set up in 1920 by Constance Waller who grew up in Nether Green, Sheffield.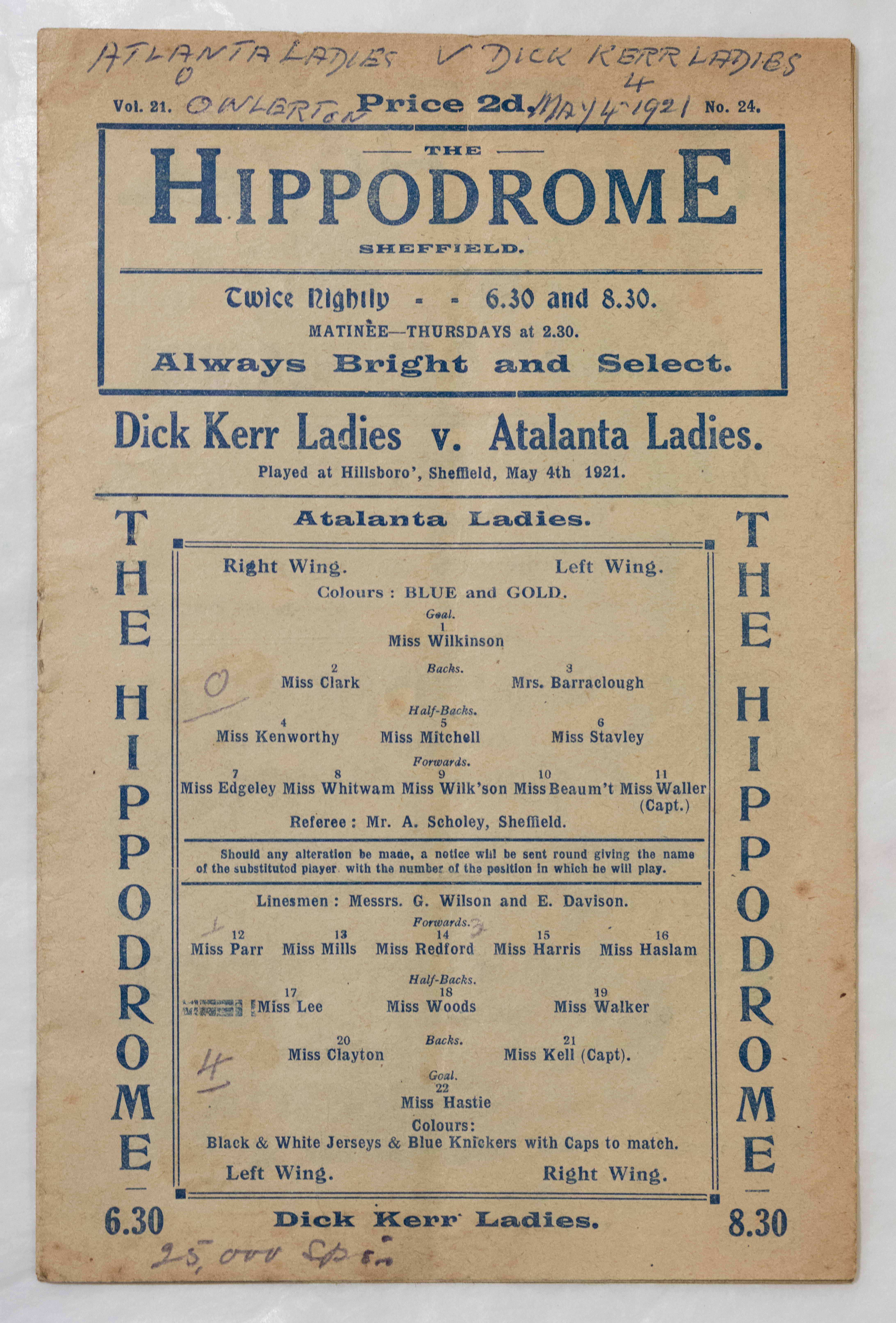 During the summer of 1921, several women's teams formed in the coal mining villages around Doncaster and played matches to raise money for soup kitchens during the 1921 miners' strike.
There was another huge blow to women's football on 5th December 1921, when the Football Association banned women from playing football on FA-affiliated pitches. The ban remained in place for 50 years.
During the ban 1922-1968
During the FA ban, there were a few charity and recreational games, but little regular organised football.
In 1929 and 1930, there were matches between local teams including Carbrook, Darwin's (razor manufacturers) and Sheffield United Supporters' Club.
On 6th August 1931, Preston Ladies beat All England Ladies 9-1 during a charity gala at Abbeydale Park, Dore, watched by several thousand people.
On 30th July 1932, a charity match between England and France was held at Abbeydale Park. England won 4-2 in front of about 2,000 spectators.
Before the National Health Service was formed in 1948, communities organised 'hospital weeks' to raise money for local hospitals. In the 1930s, several women's football matches took place during 'hospital weeks' with teams including Kiveton Park, Dinnington, Killamarsh, Harthill and Mosborough.
In the 1950s, South Yorkshire Ladies played some charity matches. Follow the link to find out more.
Emerging from the ban: The 1970-1989
In the Sheffield area several women's teams were formed around 1970 as the FA ban on women's football was lifted.
In 1970 a Sheffield Ladies League was established, with 5 teams. The first champions were Rotherham Blue Dynamoes, who beat Kilnhurst Shooting Stars, Jervis Lum, Barrier Hoppers and Rotherham NALGO to the title. Mrs Susan Thursfield was secretary of Barrier Hoppers and was also the Sheffield Ladies League secretary.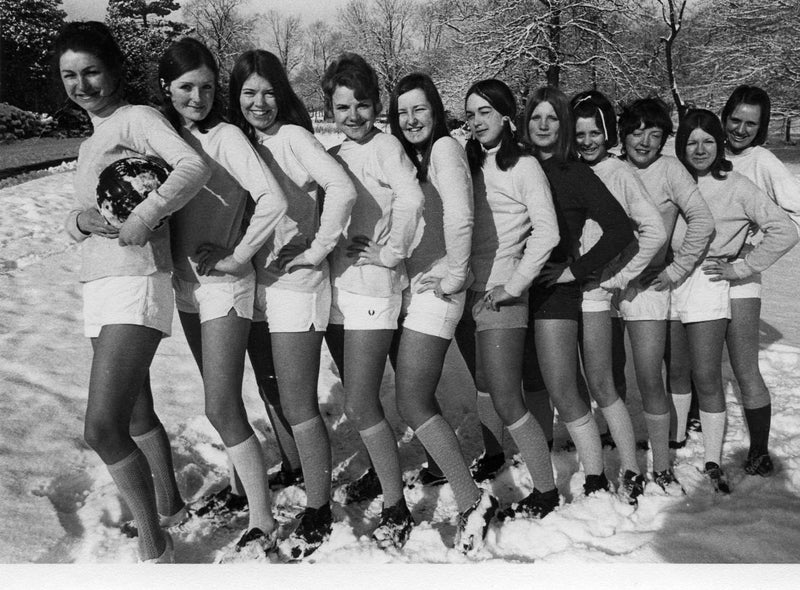 More teams joined in the following seasons, including Doncaster Belles, Sanderson Kaysers, Viners Bluebirds, Sun Alliance, United Bombers, Star Inn from Rotherham and Fleece Fillies from Ossett. Sanderson Kayser and Viners were big Sheffield steel companies.
The League folded in the mid-1970s and some of the teams joined the Nottinghamshire League. Doncaster Belles are still going, so are Kilnhurst – now as Rotherham United - and Star Inn, now Sheffield Wednesday.
In 1976, the FA lifted its ban on women refereeing men's matches. Sheffield & District Referees Association enrolled its first female member, Karen Williams in 1976.
In the early 1980s, the University of Sheffield women's football club was set up.
Sheffield Ladies 1982

(Image: Courtesy of Sheffield Libraries and Sheffield Newspapers)

The 1990s-2022
Star Inn Ladies formed in Rotherham in 1971 and in 1981 changed their name to Sheffield Ladies. In 1991 they became Sheffield Wednesday when the club responded to their request for sponsorship. They joined the new National Women's Football League in 1991. The club is still going, making it over 50 years old. It now runs several girls' and women's teams.The first team plays in the North East Regional Women's Football League.
In 1993, Sheffield Hallam United was formed as a partnership between Sheffield Hallam University and Sheffield United, and played in the Yorkshire and Humberside League until about 1998.
Since then, more women and girls' teams have started, though not all have survived, and in 2003 Sheffield & Hallamshire Women & Girls' League was established.
Sheffield FC Ladies started as Norton Ladies in the 1990s and have played in the Women's Super League.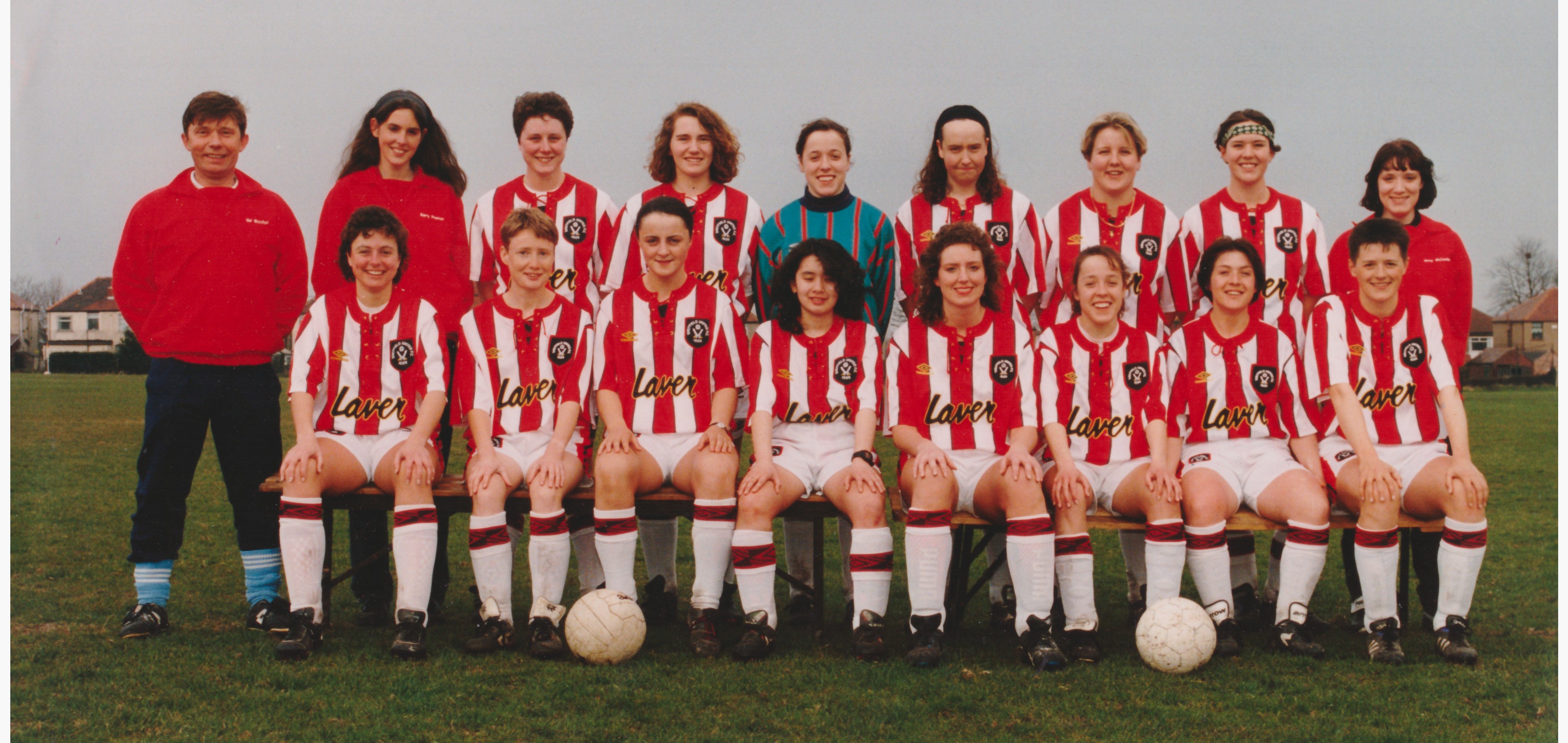 In 2022-23, Sheffield United are in the FA Women's Championship – one tier below the Women's Super League - making them the higherst ranked team in Sheffield.
In 2023, there are still no fully professional women's football teams in Sheffield.
For some more details, see the timeline and other links at the bottom of this page.
The Stoppage Time project received a huge boost when it was given support by Sheffield City Council (SCC) and the National Lottery Heritage Fund (NLHF) to become part of the culture and heritage programme that ran alongside the UEFA Women's Euros in July 2022. With support from these funders and the Football Association, Sheffield Libraries and Archives, the National Football Museum, Rationale Method and Sporting Heritage, we produced a series of physical exhibitions and online material. Physical exhibitions were on display in Sheaf Square (outside Sheffield railway station), Sheffield Central Library and the Winter Gardens from early July, when Sheffield was one of the host cities for the Euros, until the end of October 2022.
The project also feeds into the Sheffield Home of Football campaign to promote the significance of Sheffield's role in the early development of football.
More information is available on request. There is still much to find out. We'd still love to hear from women who played football, or were involved in football in another way, in Sheffield or South Yorkshire in the 20th century - particularly in the 1970s or earlier. This includes women who were coaches, referees, secretaries, sandwich makers, kit washers or whatever. Also please get in touch if you wanted to play but didn't have the opportunity, or if your mum, nanan or other older relative or friend was involved in football.
Contact the Stoppage Time project coordinator Ruth Johnson on stoppagetime@furd.org or here:
We've produced a series of oral history films with past and present female footballers from Sheffield, from England stars to recreational players. See our Youtube Stoppage Time playlist here:
Watch our short film about women's football in Sheffield before the FA ban in 1921 here:
We worked alongside Sporting Heritage who produced an online exhibition showcasing some more women who have played a part in Sheffield women's football, past and present:
Here's a guide, photos and links to what exhibitions were where during the summer of 2022:
This article about the project appeared in the Sheffield Star on 18th February 2021: