The project has kicked off in 2021 to coincide with the centenary of the FA ban on women playing football on FA-affiliated pitches in 1921 and the 50th anniversary of the lifting of the ban in 1971.
We also want it to help generate more interest in women in football as Sheffield and Rotherham are two of the host cities for the Women's Euros in July 2022.
It also feeds into the Sheffield Home of Football campaign to promote the significance of Sheffield's role in the early development of football.
The project, which is being supported by Sheffield City Council, is researching the history of women in football in the local area and talking to a wide range of local women and girls of different ages, backgrounds and nationalities about their experiences of football.
A team of creative writers, fans and community footballers working in partnership with Football Unites, Racism Divides (FURD) is producing resources in a variety of media with documentary and creative elements to record the project findings. We plan to launch the resources with an interactive event or events.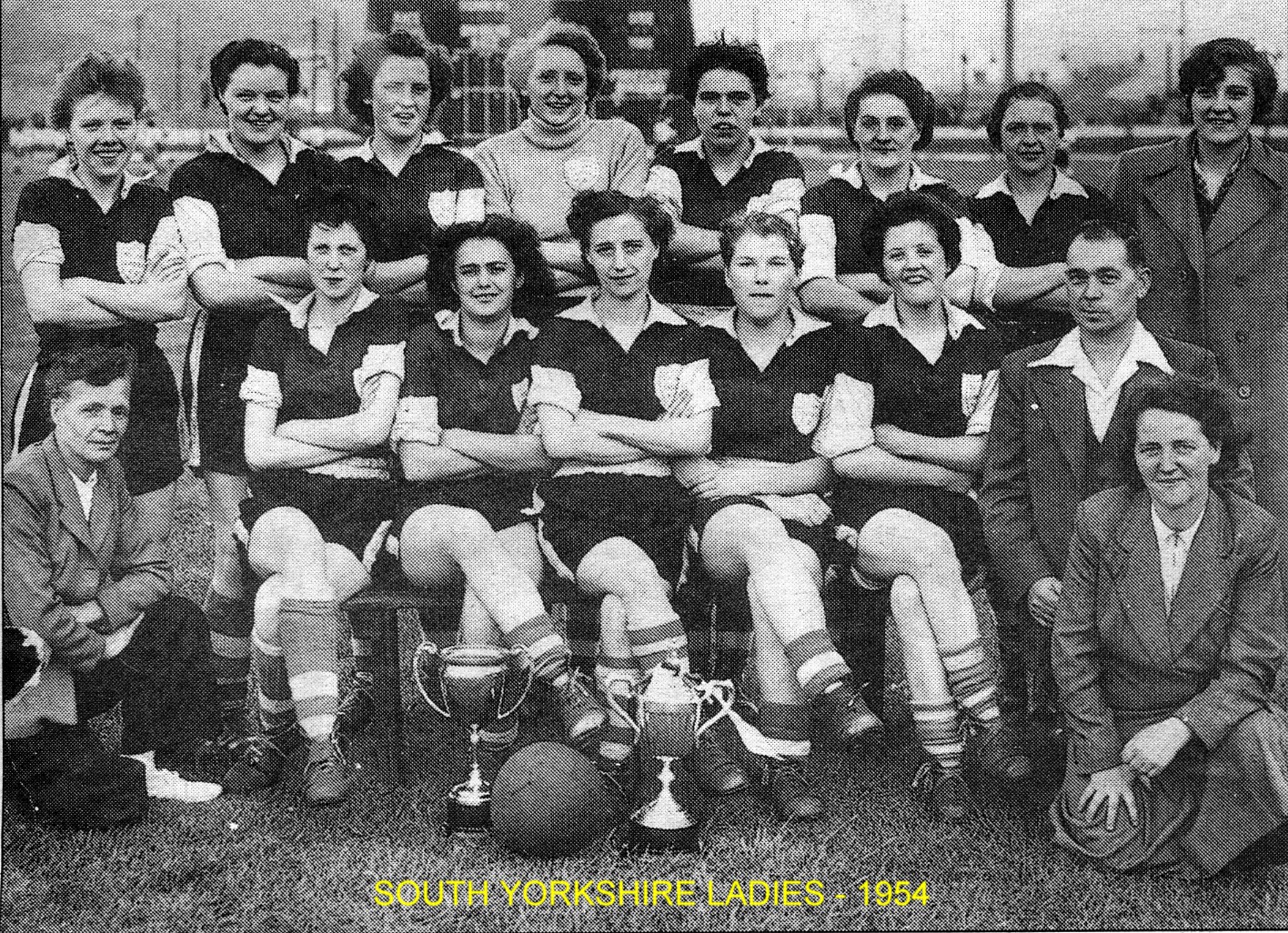 We'd love to hear from women who played football, or were involved in football in another way, in Shefffield or South Yorkshire in the 20th century - particularly in the 1970s or earlier. This includes women who were coaches, referees, secretaries, sandwich makers, kit washers or whatever. Also please get in touch if you wanted to play but didn't have the opportunity, or if your mum, nanan or other older relative or friend was involved in football.
The top photo is of Vickers Works East Projectile Shop football team at Vickers Sports ground, Sheffield, Boxing Day 1916.
The second picture shows a South Yorkshire Ladies Football League Cup Winners medal from 1918 won by Alice Wardle. The league was established during the first world war and consisted mainly of teams made up of factory workers, and particularly munitions workers. Miss Wardle played for the Barnsley Shell Factory team where she worked as an engineer, machining the shell cases.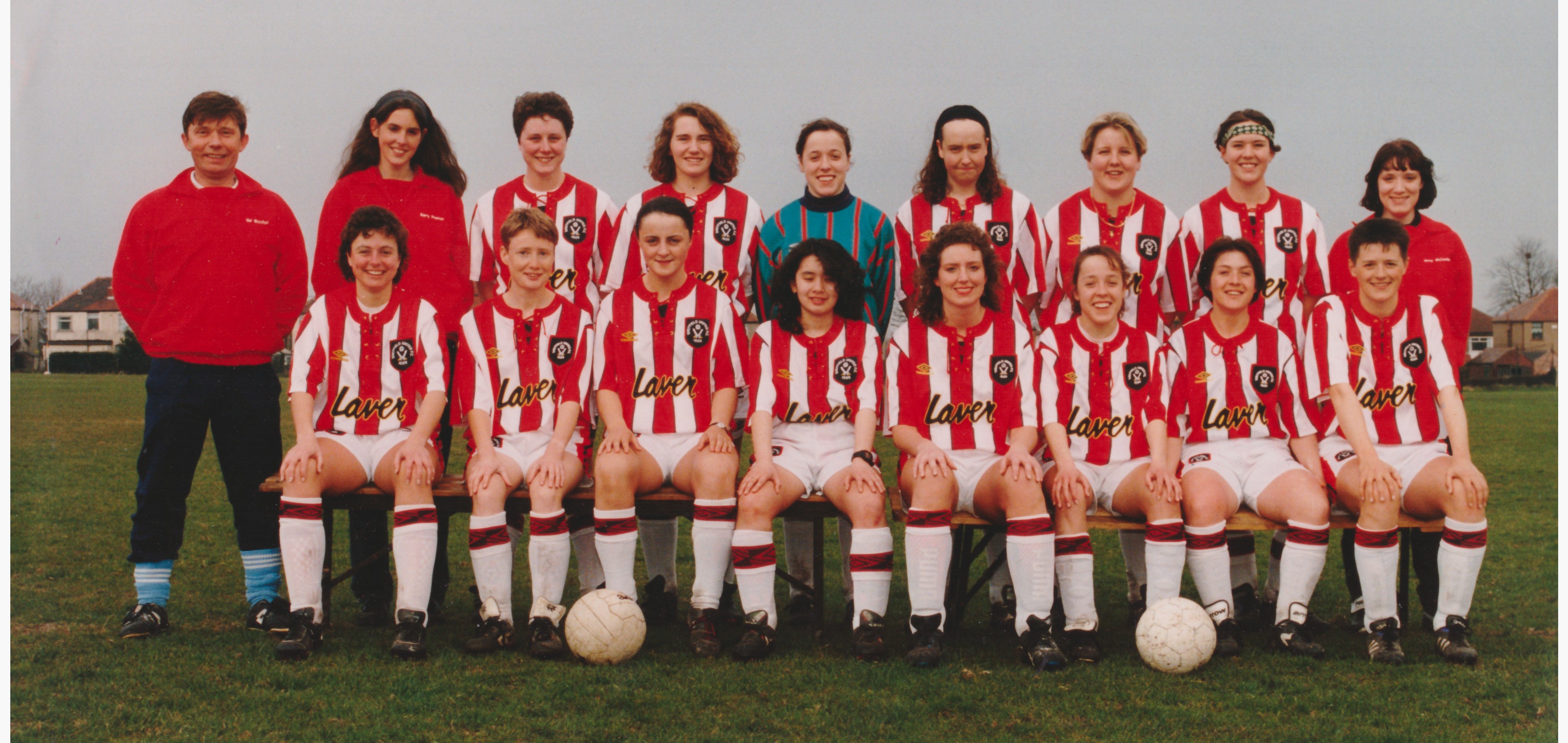 The third photo of South Yorkshire Ladies was taken in 1954 and shows that some women continued to play football during the 50 year ban. Do you recognise anyone in the photo or know any more about the team? Please get in touch if you do. The team was described as "Yorkshire champions"and played Corinthian Ladies from Manchester at Sheffield Sports Stadium, Penistone Road for the IPF Cup in July 1954. The match raised money for the Infantile Paralysis Fellowship. The referee was Ernest Blenkinsop, a former Sheffield Wednesday and England player.
The fourth photo is of Sheffield Hallam United, which was formed in 1993 as a partnership between Sheffield United and Sheffield Hallam University.
The fifth image is a call for women in the Sheffield and Rotherham area to write in with stories of their football experiences, past or present, positive or negative.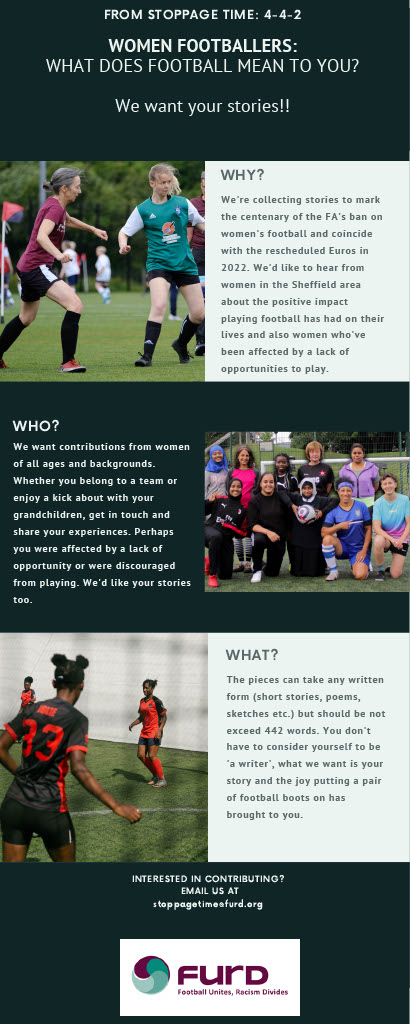 This can be a poem, sketch, prose, you choose. It may end up on this website, in print or you may have the chance to perform it live if you wish. If you prefer to share your story verbally, get in touch and let's arrange it! The sooner the better, but any time up to spring 2022 should be okay. Watch this space for more definite deadlines and other updates.
More information will be added to these pages as the project progresses.
Contact us on stoppagetime@furd.org or here:
Watch our short film about women's football in Sheffield before the FA ban in 1921 here:
Watch our filmed interviews with 13 women of a wide range of ages and backgrounds who play football with FURD, and a poem inspired by the words of female footballers past and present:
Listen to some women's experiences on our Youtube Stoppage Time playlist here:
https://www.youtube.com/playlist?list=PLdMuOb3gSM69hL6izXrkO1oHuCmwJtHMQ
This article about the project appeared in the Sheffield Star on 18th February 2021: