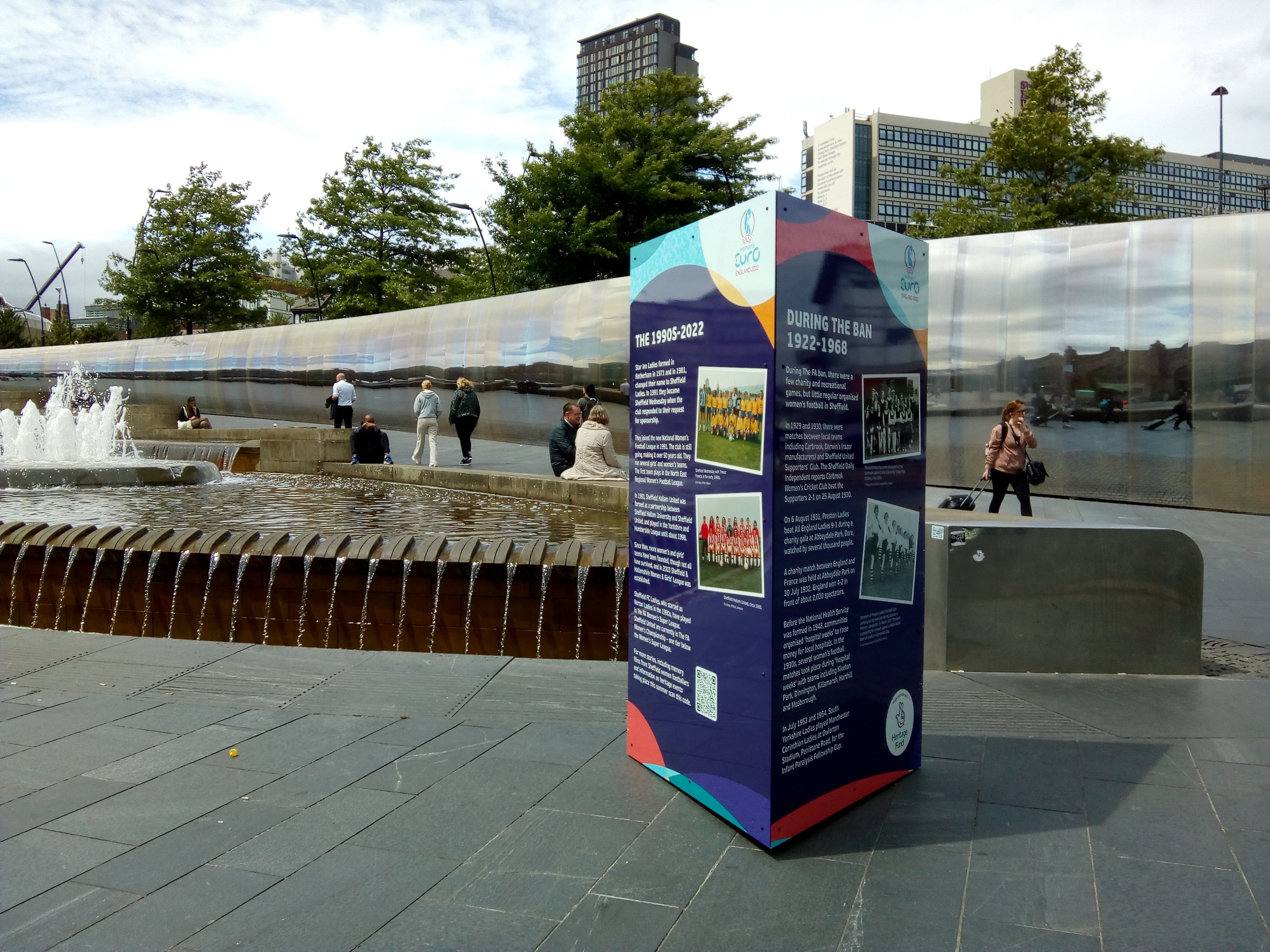 A series of exhibitions has been unveiled around Sheffield city centre and online which shine a light on the previously hidden history of women's football in Sheffield and beyond. The exhibitions form part of the national cultural and heritage programme running alongside the UEFA Women's EURO. The Stoppage Time Sheffield Women's Football Herstory project was started by FURD staff and volunteers and has been supported by Sheffield City Council and the National Lottery Heritage Fund. It has worked with individuals and organisations to reveal the ups and downs of a surprisingly long history of women's football, stretching back to the 19th century. The exhibitions were officially opened by the Lord Mayor on 18th July 2022 and will be on display until 30th September. This is where to find them:
Sheaf Square, outside Sheffield train station, S1 2BP: Two 3-sided exhibition stands charting the history of women's football in Sheffield and a further two on the national history of women's football.
Fargate (S1 1LF) and Castle Square tram stop (S1 2GH): A further four 3-sided exhibition stands looking at the national history of women's football - three on Fargate and one at Castle Square tram stop.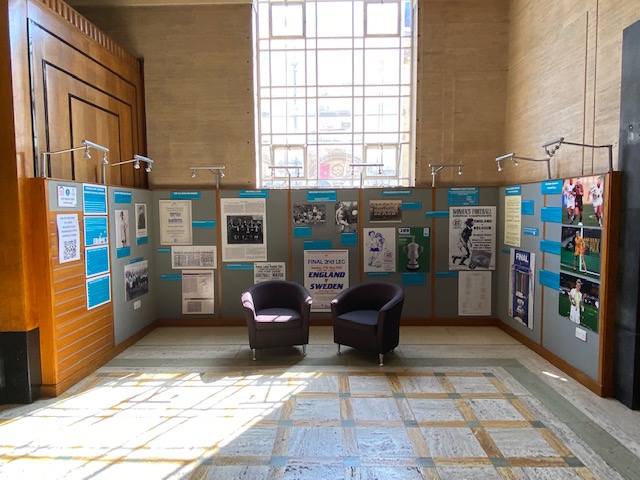 Sheffield Central Library, Surrey Street (S1 1XZ): In the foyer: 'Stoppage Time: Sheffield Women's Football Herstory' exhibition includes stories of pioneering local women, from munitions workers in the first world war to past and present England players from Sheffield. Some of the barriers women have faced are highlighted, most notably the 50 year ban imposed by the FA on women's football from 1921 to 1970. The exhibition also includes archive images of women's football in the nations playing in Sheffield during the UEFA Women's EURO - Sweden, Netherlands and Switzerland. This exhibition comes with audio description via QR code for anyone who is unable to see the images clearly or read the text. This also means much of the exhibition can be accessed remotely, here:
Three 'Stoppage Time' pull-up banners include a time line of Sheffield women's football history and a celebration of some of the first women from diverse backgrounds to make their mark in Sheffield football (previously in the Winter Garden).
A board (on a big "England shirt") for visitors to leave feedback.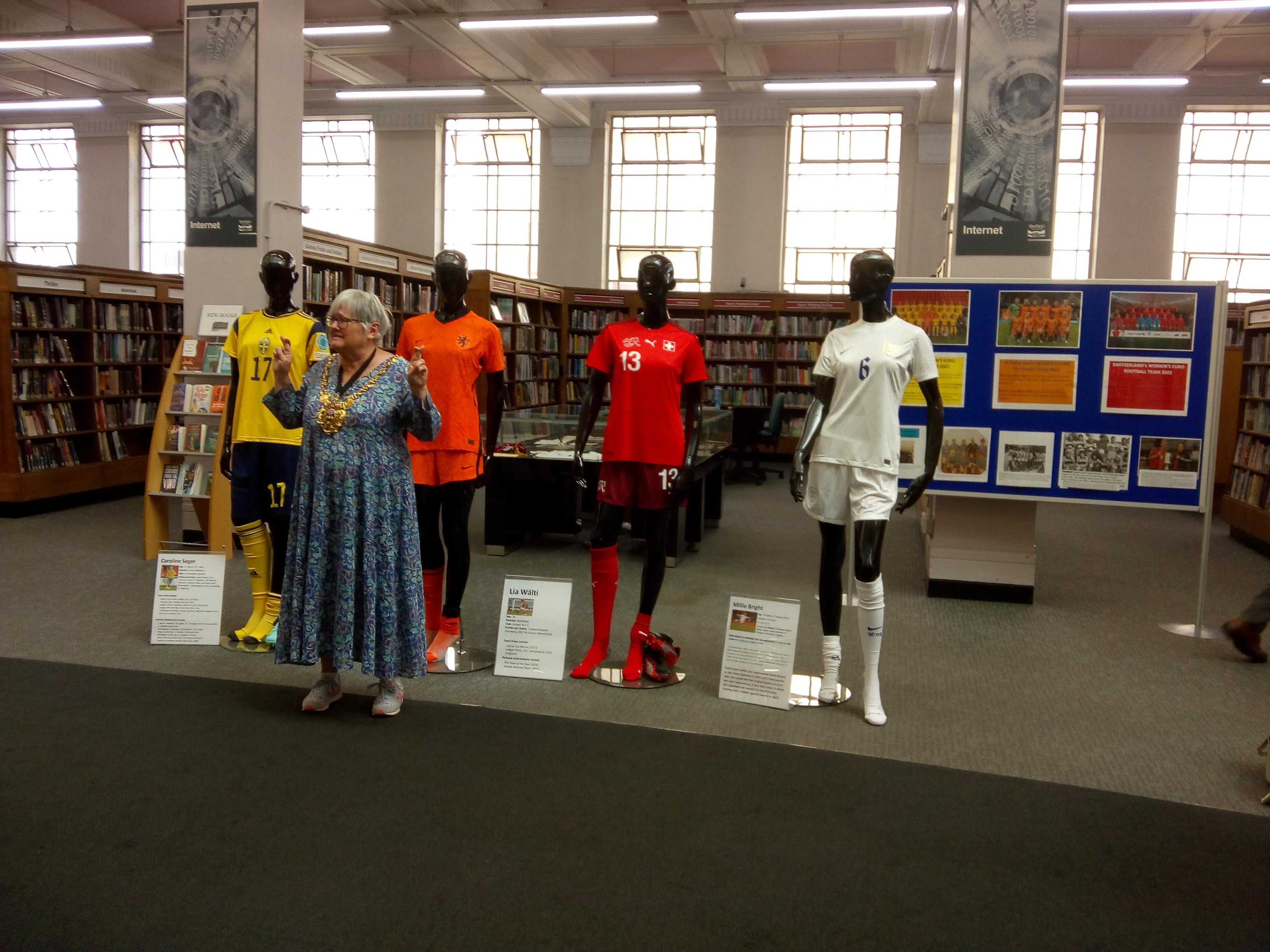 Inside the main library: Four football kit-clad mannequins greet you, representing top players from four countries playing in Sheffield this summer: Millie Bright, Vivianne Miedema, Lia Wälti and Caroline Seger. Alongside them is the opportunity to learn more about them and their team mates. There is also a series of photos of women's football teams in Sheffield from various decades. Behind the mannequins are display cabinets showcasing memorabilia loaned by current and former players. These include an England shirt and cap belonging to former Sheffield United player Jess Clarke. There is also some memorabilia collected from the recent UEFA Women's Euros.
Online: A series of filmed interviews with past and present female players with Sheffield connections. These interviews chart the changing experiences of women in football from 1960 to the present day. They can be found on our Stoppage Time playlist, along with a short film we made about women's football in Sheffield before the FA ban in 1921: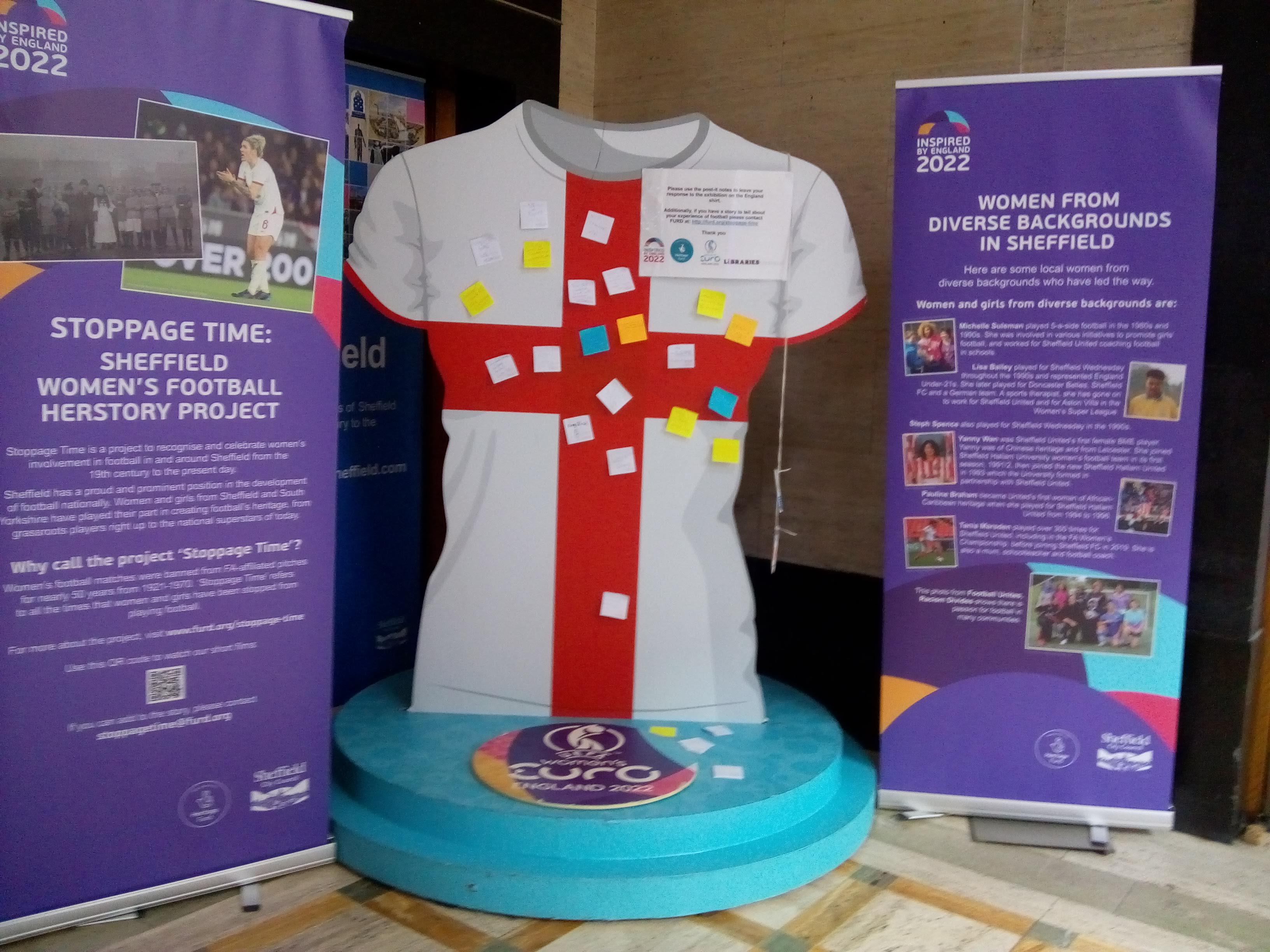 A summary of some of the local history we uncovered can be found on the FA website along with interviews with four local women (two of whom played for England). You can also further explore women's football history nationally and in the other UEFA Women's EURO host cities by following the links from this page.
We also worked alongside Sporting Heritage who have produced an online exhibition and series of interviews and podcasts celebrating women's football in Sheffield which are here:
We would love to hear from anyone who can add to our knowledge of Sheffield women's football history. We're particularly keen to hear from anyone with memories or knowledge of the Sheffield Ladies League of the early 1970s. Sheffield teams included Barrier Hoppers, Viners Bluebirds, Sun Alliance, United Bombers and Jervis Lum. Please contact us here:
For further information about the Stoppage Time project, visit our webpage here. On the 'Blog' sub-page is a piece based on a walking tour of the exhibitions which includes a quiz and some film clips:
Sheffield Libraries also have a number of other football themed displays at the moment: 'A Woman's Game' in the other side of the foyer looks at the past, present and future of women's football. Upstairs is a 'Community football' display of photos of local teams and kickabouts from their collection - including some women's teams and some FURD-supported teams. There are also historic photos of Sheffield United and Wednesday and Sheffield Home of Football displays.