'An Audience with England Legacy Lionesses'
By Sarah Choonara, July 2023. Published 2nd August 2023.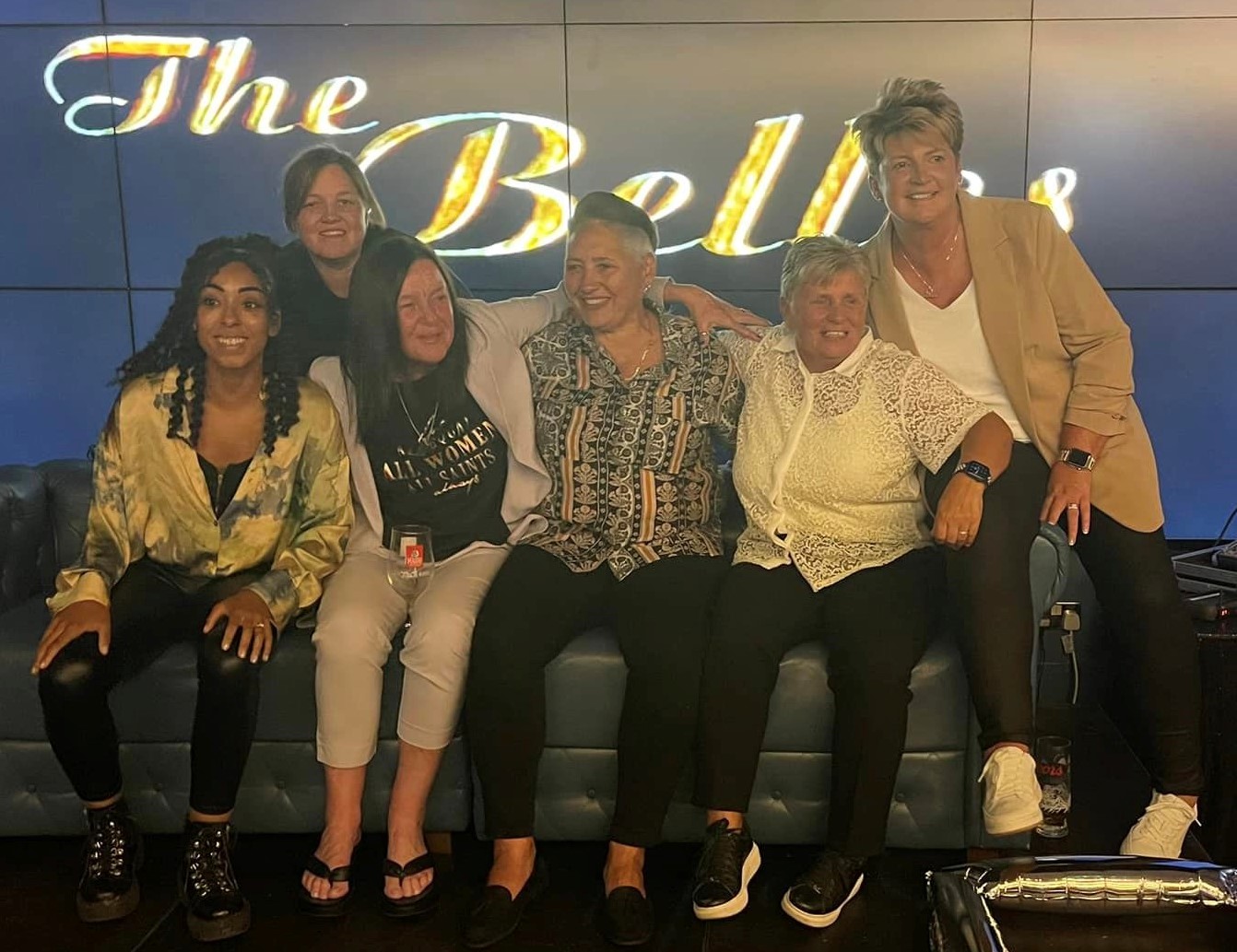 "ARE YOU READY FOR A ONE TIME ONLY UNIQUE EVENT?" screamed the invitation.
It went on to say, "This is a personal invitation to our unique and exciting event coming up on Saturday 3rd June at Grosvenor Casino Sheffield, 'An Audience with England Legacy Lionesses.' Hosted by the former Lioness Michelle Slater (previously Jackson), and in partnership with both the Grosvenor Casino and Sheffield United Women. This unique event ties into the up-and-coming Women's World Cup. We have Ex Lioness Legends as our special guests both past and present to celebrate the history of Women's football."
The dedicated work by Ruth Johnson for Stoppage Time in the build up to the 2022 Euros included some exciting legacy interviews in partnership with the FA. One of the interviewees was the above-mentioned ex-England and Doncaster Belles defender Michelle Slater (Michelle was known as 'Mickey' Jackson during her playing days!). Having made that contact, Michelle asked Ruth for some assistance in planning the event, which led to several of FURD's footballers attending on the night.
As is so characteristic of FURD, our group's ages spanned over several decades, but we were all equally excited as we gathered at the casino to see how the evening would unfold. We entered a room adorned with football balloons tied to the tables with silver ribbons. A range of football-themed cocktails was on offer and the room was also served by a large screen which, over the course of the evening, played footage from the playing days of the illustrious guests. Michelle Slater thanked the Casino Manager Kim Taylor for her support in getting the event together and ably assisted by Jess Bent, the Partnerships Executive at Sheffield United, they got the evening underway.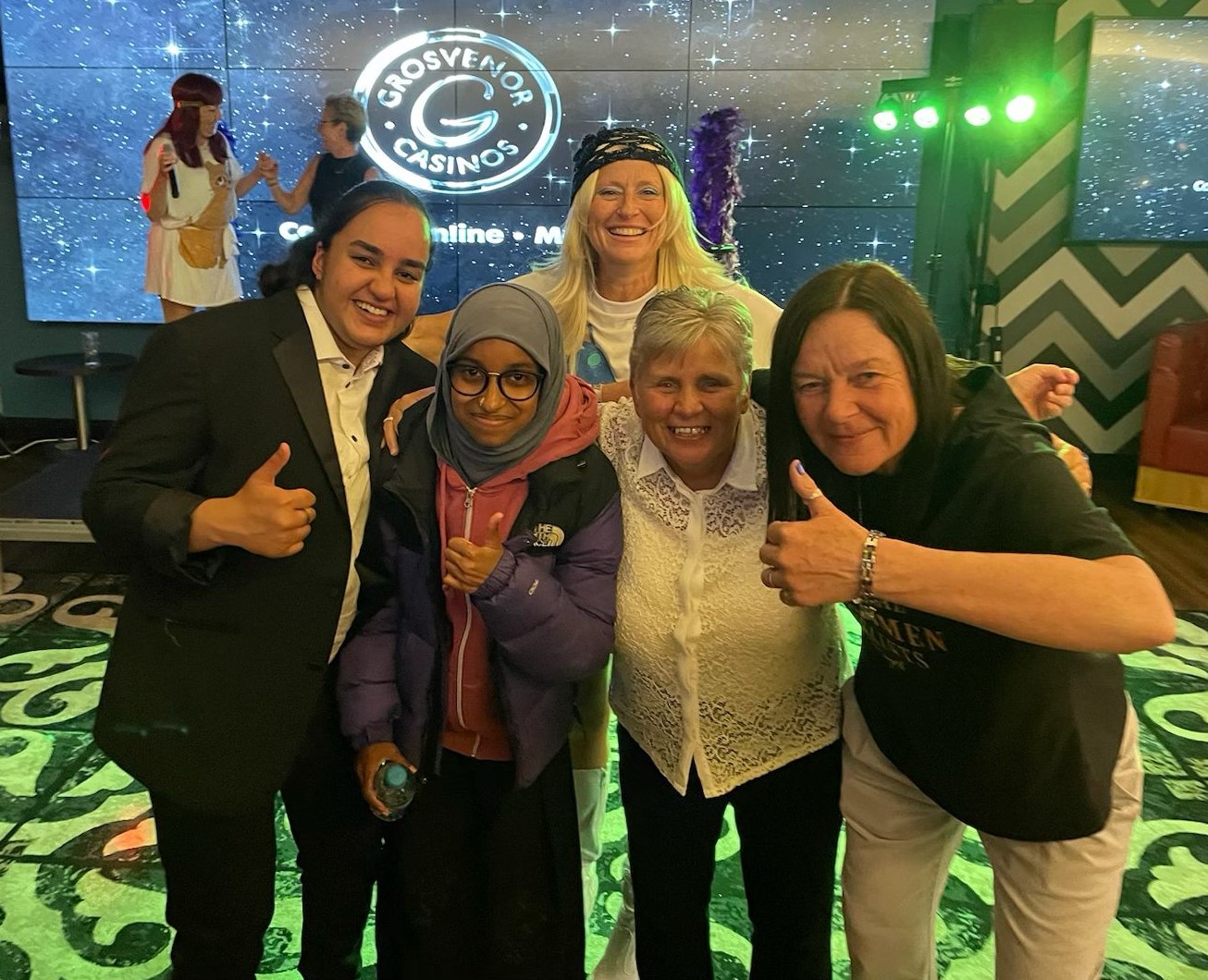 Michelle was a Doncaster Belles player from 1988–2002 and made 3 England appearances between 1991 and 1995. Anyone who isn't familiar with Doncaster Belles should read up about them. They were THE dominant team of the 80s and early 90s and featured in a book and TV programme. There were loads of England Internationals in their ranks too!
Naturally, Michelle had number of ex-teammates from Doncaster Belles on the guest of honour list, many also with an impressive number of England appearances under their belts. Bringing up each player up to the stage in turn, we heard from:
Gill Coultard MBE. Gill played for Belles over 2 periods; 1976 to 1982 and 1986 to 2001. She was also an England International for 19 years, gaining an astonishing 119 caps and scoring 30 goals. She was a captain for both club and country. It is at this early point in the evening that we remember that women from Michelle and Gill's era had to manage their footballing prowess at the end of a working week.
"We used to meet at Lilleshall just for a weekend, and then go off on International duty then return the next day," said Gill. "Playing a weekend game we'd meet for an hour on a Saturday, play on Sunday, go back to work on Monday. When I went to the 1995 World Cup, I was quite fortunate [with work], a lot of girls packed in their jobs to go, or used all their holidays."
Without this dedication to keep the game going, Gill observed that the footballers of today wouldn't have their platform.
Next up to be interviewed was Joanne Broadhurst. Joanne played for Doncaster Belles between 1987 and 1995, and also 2000/1. Other clubs she represented were Arsenal, Croydon, Charlton, and Rotherham. In contrast to the quietly spoken Gill Coultard, Joanne is a natural talker! The first question put to her was "Did your dad have a big influence on your football?"
"Massive," said Joanne, "My dad was like my twin. We spent all our time together." She went on to talk about playing abroad when representing England. "It was an incredible
experience going away, I'd never been on a plane, never been abroad, went to Italy, played, got my debut."
She was then asked, "How was that juggling your career as well as football?"
"You just do what you do," she replied. "When I went to live in London I worked for the government as a car driver. I used to run at five in the morning, work 'til seven at night, go training at Arsenal. You just do what you do don't you, just make it work? It was important to me to keep my mates [at Donny Belles] as well but I wanted to go to London and experience different things as well."
Talking about the work she does now, she explained, "I scout for Southampton. We need to do something where Sheffield United are full time. If you're not full time you can go somewhere where you're full time."
One part of the interview I think we'll all remember was Joanne's tale; "My proudest achievement is walking out at the FA Cup Final and seeing my lovely dad sat there at my first cup final because it meant the world to me, it meant the world to my fellow Donny teammates cos that was our first cup final. We'd got these shell suits; they would have fit an 18 stone person. Grey top, grey bottom no shape, but because they came from Donny market we were like 'Let's go.' Funniest memory ever we get to the hotel and everyone's putting cushions up their shell suits."
Joanne was the partner of Julie Chipchase, a much-admired Belles player, director, and coach. Chipchase died in 2021 from cancer and the Julie Chipchase Coaching Legacy Fund was set up in her name, a fund which assists girls and women into football coaching. Joanne and all the other guests spoke passionately about the importance of supporting girls and women into football and the help that the legacy fund could offer.
Chantel Woodhead then came up to talk. Chantel was a Belles player in the '90s and also represented Bradford City Women, Bronte Ladies, Everton, and Leeds. Chantel had one England appearance, in 1995, but told the listening audience of her appalling treatment at the hands of the England administration of the time. She was admonished on the day of the match for wearing a pair of non-regulation trousers, after which she was never picked again. Talking about it at the event, she assumes an air of amusement about it at first, but it clearly shows how certain players were picked on. "My pants were loud, colourful, I was a leader of fashion, and I had a personality. Jo Broadhurst was the first out the door with personality, followed by [Belles striker] Kaz Walker."
Chantel said she was really affected by the experience and couldn't imagine players of the modern era being treated with such a lack of respect. The experience did motivate her however to train as a Mindset Coach and she now runs her own sports coaching business called On Your Feet.
Other ex-Belles players who came to the stage were Vicky Exley (1994 – 2012 and 52 England appearances with 7 goals) and Karen Skillcorn (a Belles player in the '90s and with 2 England caps).
There was also an extensive interview with special guest Jess Clarke, formerly of Leeds Carnegie, Notts County, Liverpool, Sheffield United and now at Durham. Jess has 7 Under-19 England caps and 52 senior caps, with 11 goals. It was heartening to hear from a contemporary footballer with experience of playing professionally but it was evident how professional contracts still fall short in number compared to squad numbers at many clubs.
There was then a video interview with the England legend that is Ellen White, which was a great coup and great listen.
The evening moved on to fundraising – a raffle and auction with great prizes raised £2025 for the Julie Chipchase Coaching Legacy Fund and a further £360 for Bluebell Wood Hospice.
Finally, the relaxed setting lent itself well to the disco and the Abba Tribute act to close the evening. It was great fun sharing the dance floor with a host of legends. Two particular highlights were everyone getting on the floor to do the "Oops Upside Your Head" dance (if you don't know it, you may have to look it up!) and the rousing rendition we all sung of "Thank you for the Music" with the Abba act!
And another great legacy was that of making new friends. Many of the players were keen to talk to those of us from FURD and some plans to maintain contact have already borne fruit. It is so heartening to see at first hand the commitment from players who forged their own path under difficult circumstances to make things better for the players who come after them.
Michelle Slater was really pleased with the whole event. "The event went really well, it was very well received by all those attending," she said. "It was great to tell the story through the players who attended and raise some money for such a great cause."
When asked if she thought it could be repeated, she said "Yes I think we may do something again next year, watch this space!!"
We certainly will, Michelle. Thank you for such a wonderful night.
EURO 2022 Sheffield Walkabout
By Sarah Choonara, August 2022. Published 02/9/2022.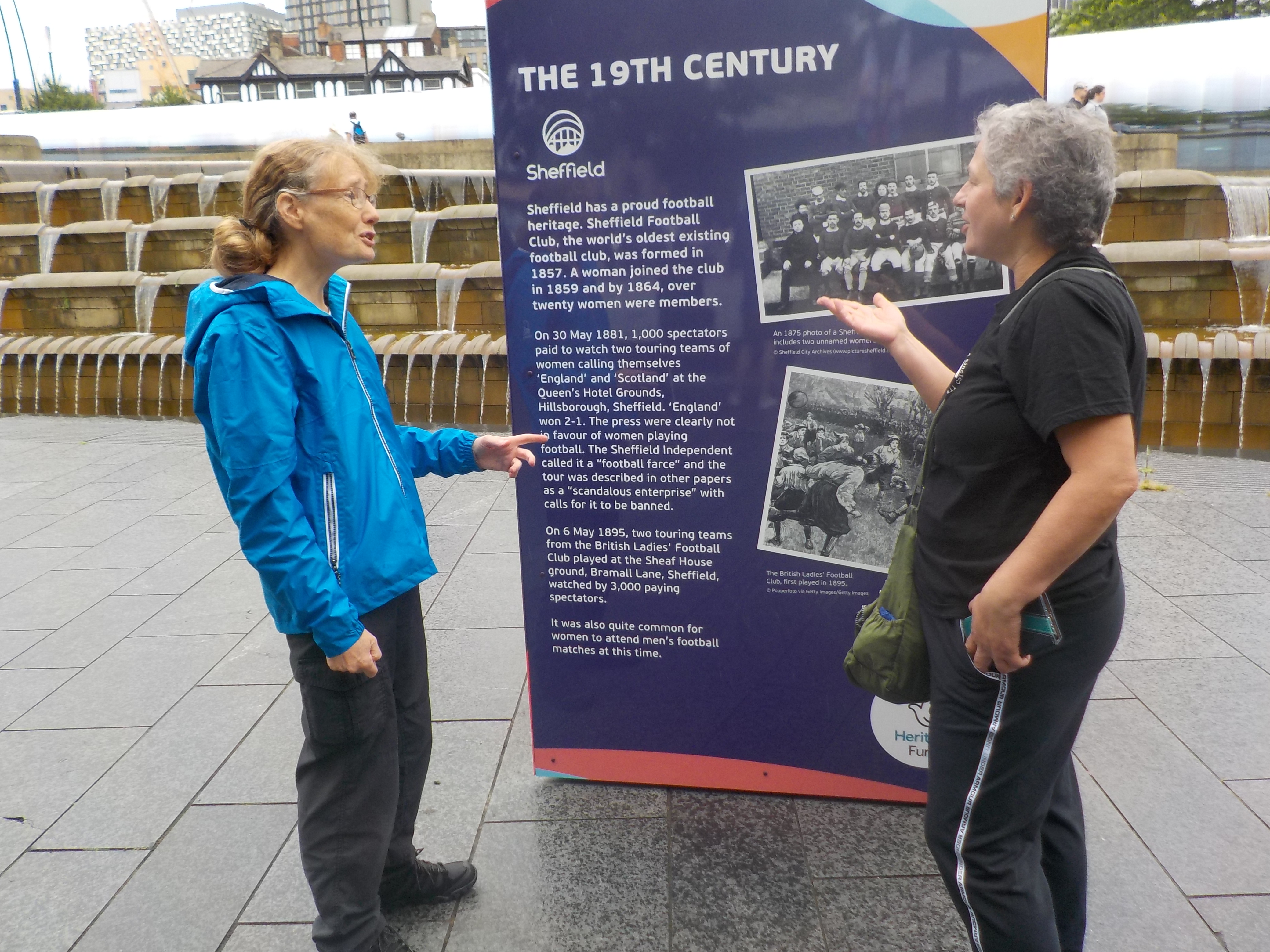 On the day before the UEFA Women's EURO 2022 final, what better way to spend time than to stroll through Sheffield City Centre with footballing friends.
Ruth Johnson – FURD teammate, coach, development worker, football researcher – has been a key part of Sheffield's EURO 22 celebration as a host city. The careful work Ruth has undertaken researching the role of women and girls in Sheffield's footballing history has rightfully been given a prominent place in Sheffield's public spaces.
Joined by fellow players Pauline Braham and Elaine Williams, we embarked on a walking tour to take it all in.
First stop, the concourse outside Sheffield train station. Here are 2 "monoliths" - large, colourful, 3-sided panels chronicling some of the key moments in local footballing history that Ruth has uncovered. Before we took this in however, there was time for a chat with Sue Bagshaw – goalkeeper with Nunny's Funky Boots - and her partner Debs who were at the station, due to set off to London to take in the final. As you can imagine, their excitement was palpable!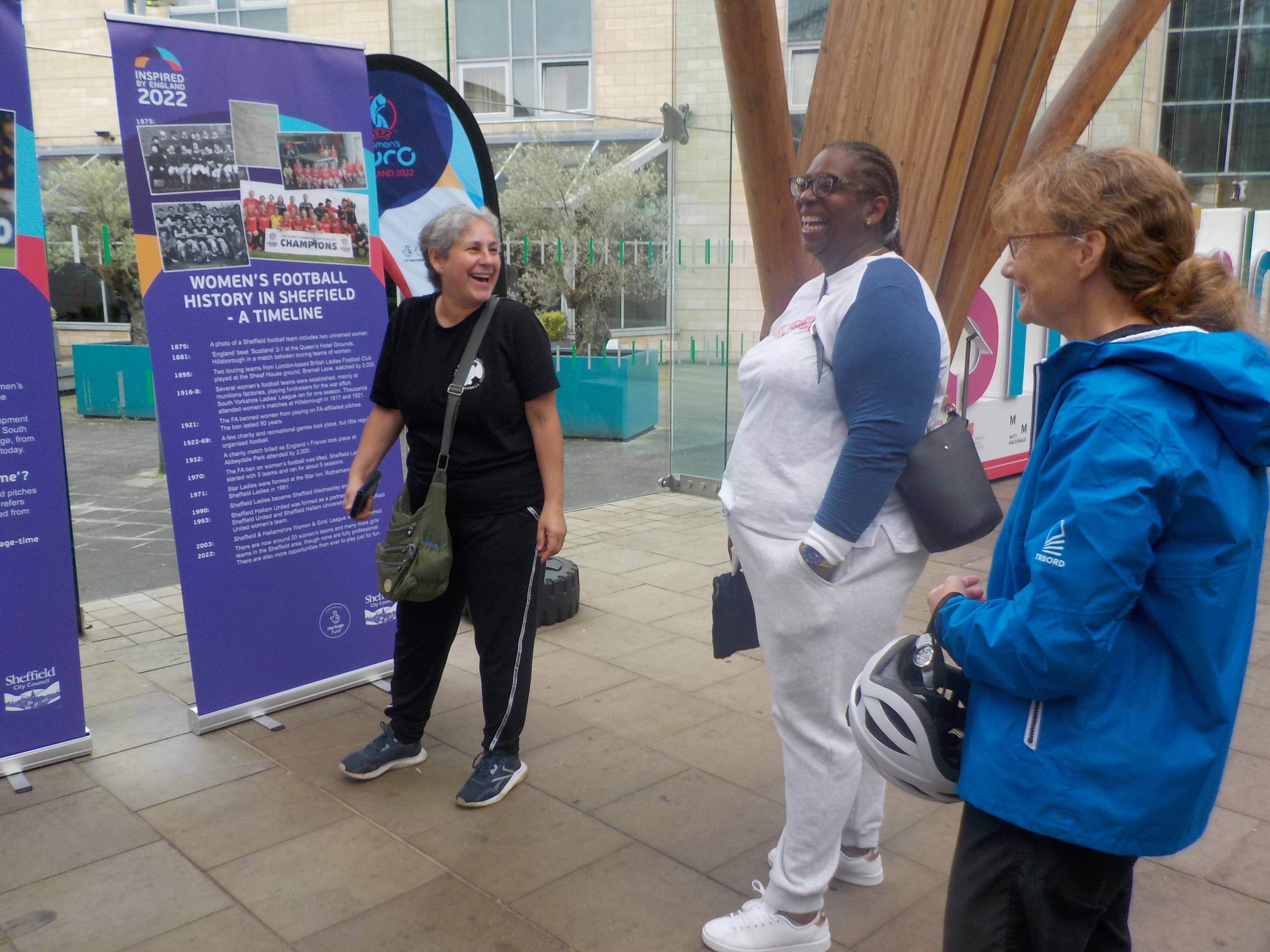 As we went over to the panels, reading them and discussing their content, several people joined us. We are able to have some really lovely interactions with the public, including a man who had come over from Switzerland, talking about the material on the panels and what their experience of the Euros was.
Check out the panels for yourself. See if you can find the answers to this quiz!
Sheffield monoliths Quiz:
Panel 1. The 19th century:
On 30th May 1881, how many spectators paid to watch two touring teams of women calling themselves 'England' and 'Scotland' at the Queen's Hotel Grounds, Hillsborough, Sheffield?
Panel 2. The First World War 1914-1918:
The First World War was a boom time for women's football.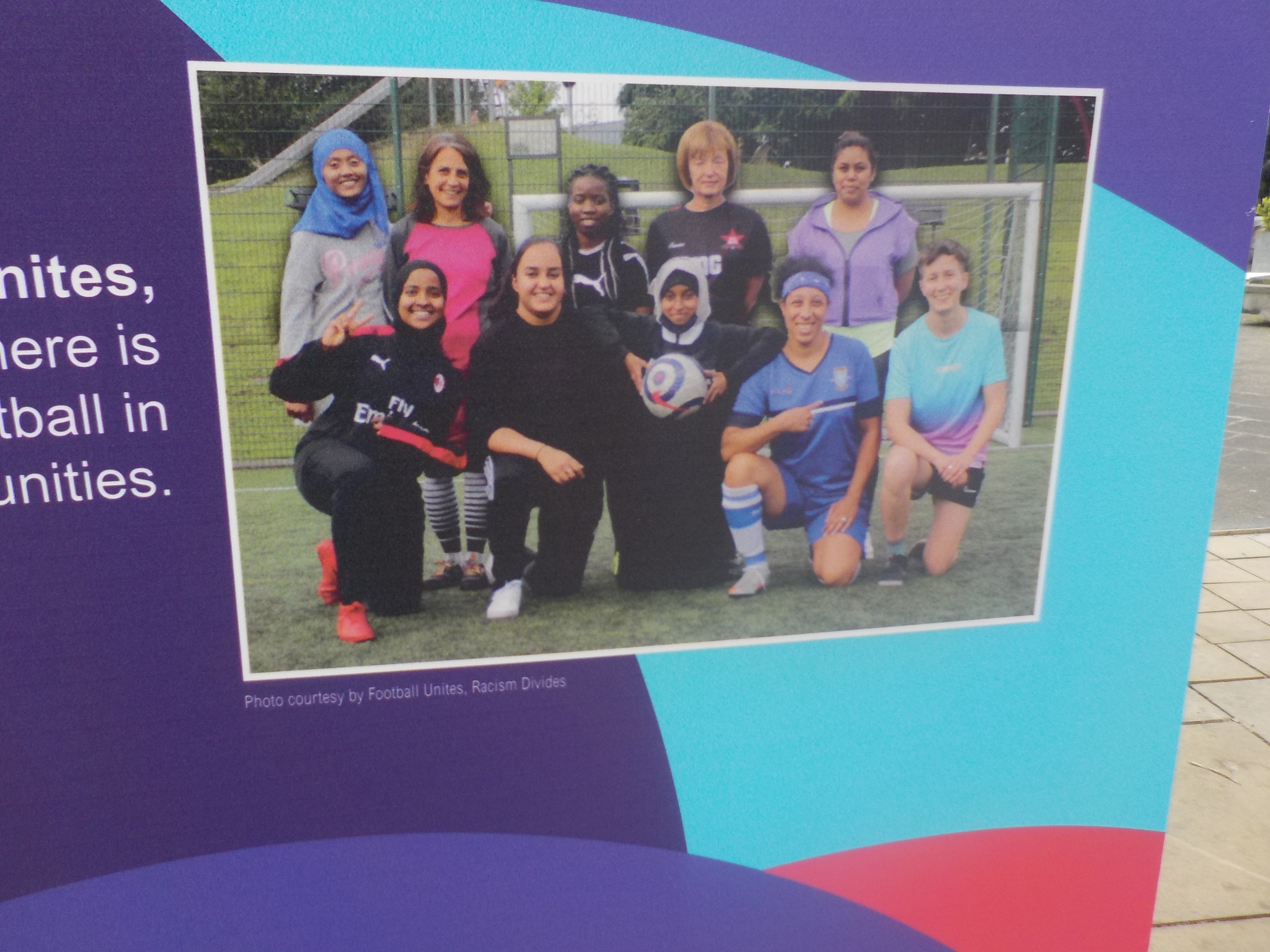 In the 1917-1918 season there was a League local to this area, what was it called?
Panel 3. 1921:
During the summer of 1921, several women's teams formed in the coal mining villages around Doncaster and played matches to raise money for what?
Panel 4. During the ban 1922-1968:
During the FA ban, there were a few charity and recreational games, but little regular organised football. But where in Sheffield was there on 30th July 1932, a charity match between England and France which England won 4-2 in front of about 2,000 spectators?
Panel 5. Emerging from the ban: The 1970-1989: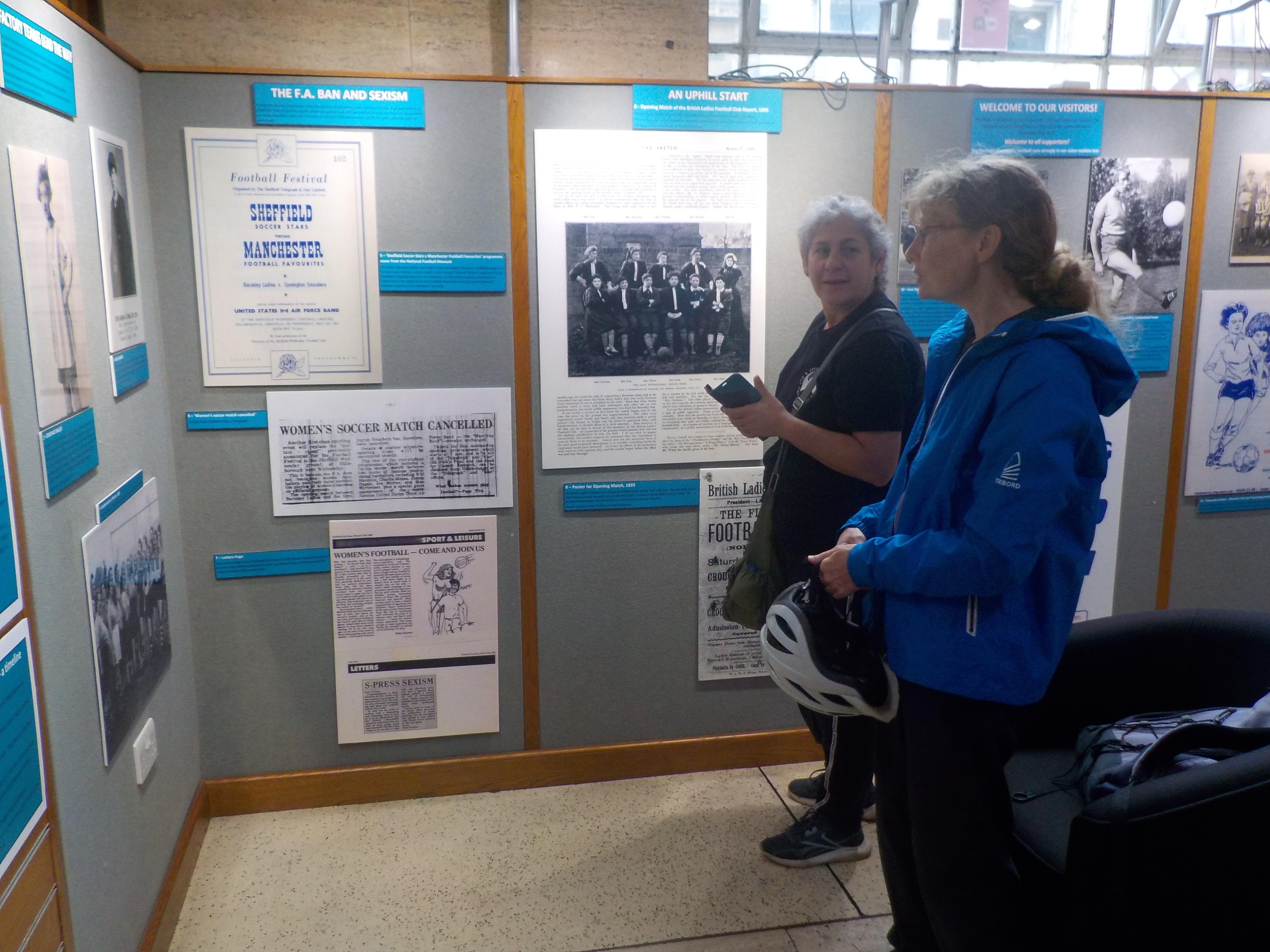 In 1970 a Sheffield Ladies League was established, it folded in the mid-1970s but some of the teams still exist under different names. Who used to play under the names Kilnhurst and Star Inn?
Panel 6. The 1990s-2022:
Which division in the footballing pyramid are Sheffield United currently in?
__________________________________________________________________________________
Next we walked up to the Winter Gardens stopping to have a go on the Women's Football Story Dispenser from which you can choose a footballing story of 1, 3 or 5 minutes duration – great idea for sharing our footballing stories widely!
In the Winter Gardens you can see the display about the Stoppage Time Project.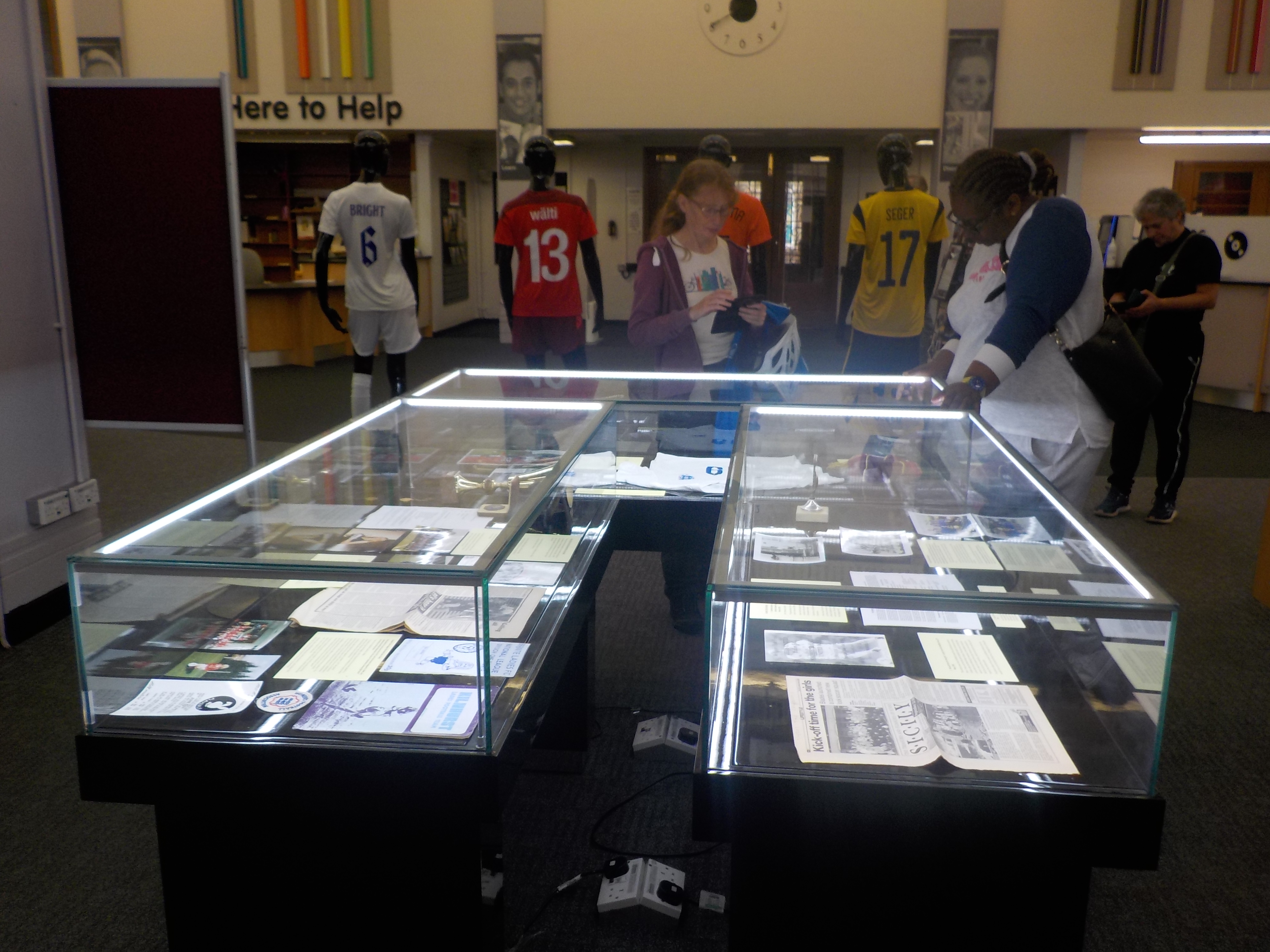 Ruth has compiled pictures of several women who played in Sheffield over the past decades, including many women of colour whose stories may otherwise go untold. Here what she says:
And of course, we have to have a photo showing some of the many, many women from so many different backgrounds who have played at FURD.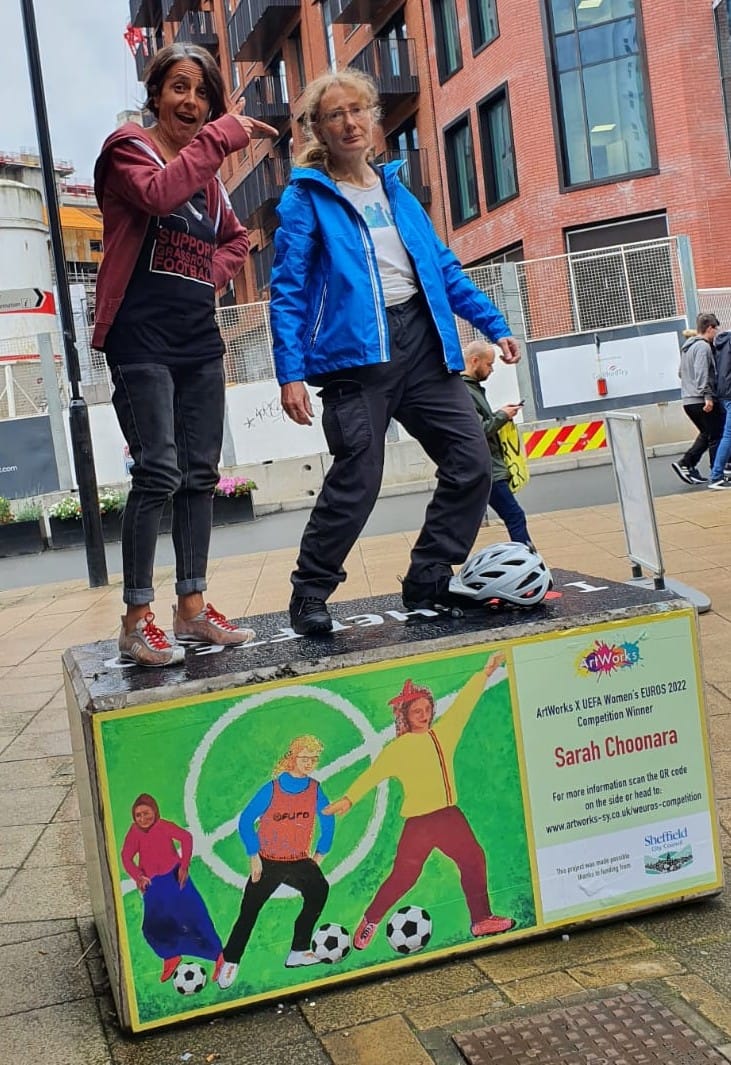 There is so much about Sheffield's footballing history to be uncovered. That includes YOUR story – get in touch to get involved!
We then moved on to Sheffield Central Library where Ruth has helped to compile an impressive collection of stories and artefacts from our rich history. Check out the caps, shirts, biogs, programmes… so much to take in from the women who never stopped kicking a ball, no matter what the odds were against them.
After leaving the library, we walked through town and past the giant football in the Peace Gardens (very difficult to pose for an action shot with in my opinion!). There are further monoliths outside the Town Hall and the Cathedral detailing more general women's football history.
Then final stop is one of the artistically adorned concrete blocks – ok, this one happened to be my own piece of work paying homage to three of the many women in FURD who have inspired me. Here's me with Ruth trying to recreate the pose!
Thanks Ruth for all the hard work. What a delightful afternoon and part of many great EURO 22 memories.
Don't forget to catch all panels and exhibition pieces while they are still here!
Football for Fundraising - a tradition worth reviving?
By Sarah Choonara. Published 25/8/2021.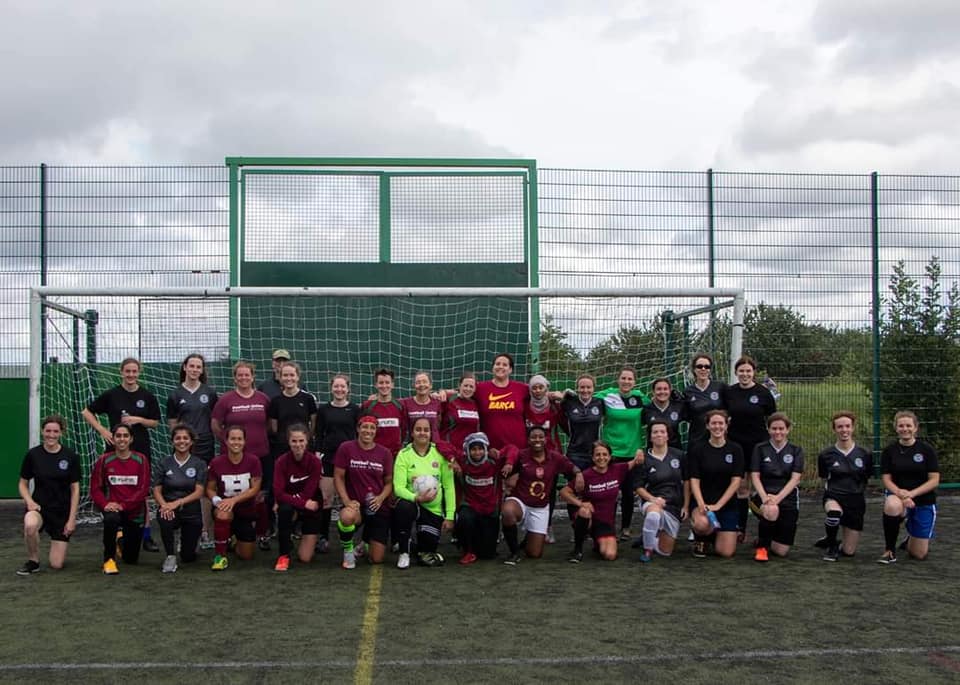 On Sunday 8th August 2021, Football Unites, Racism Divides (FURD)'s women's team played their first 11-a-side match at Concord Sports Centre, Sheffield. This was a friendly game at the invitation of Football For Foodbanks' (FFF) Sheffield women and gender minorities' division and ended in a 5-2 victory for FURD.
FFF and FURD players between them took along enough foodbank donations to fill two large trollies, and these are being donated to Nether Edge and Sharrow foodbanks.
It may be hard to see how the simple joy of an 11 a side game of football on a Sunday afternoon has close parallels with a distinct feature of our social history. But on Sunday 8 August at Concord Sports Centre in Sheffield two local grassroots organisations - Football Unites Racism Divides (FURD) and Football For Foodbanks (FFF) - came together and echoed the activities of sisters from 100 years ago.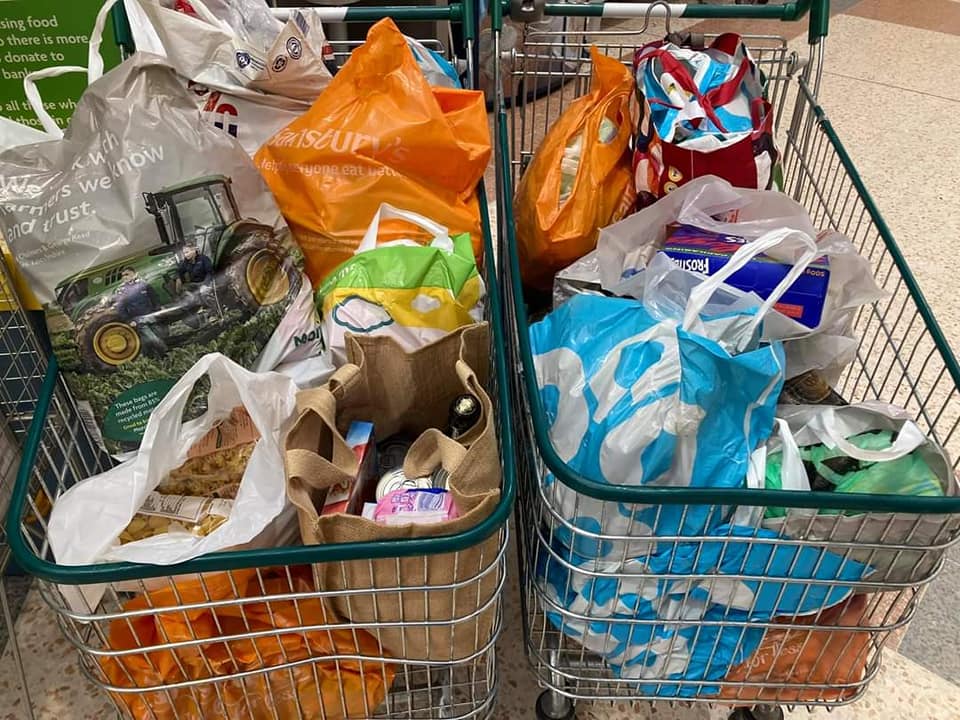 The development of football outside of a perhaps more familiar male history is a fascinating story. From the mid 1800s until 1921 - which is when the Football Association (FA) voted to ban women playing on FA affiliated grounds - there had been a significant growth in the number of women and girls playing organised football in the UK. Women, largely those who had the means to, had been arranging matches for leisure in the early days of codified football, as their male counterparts would have done. But much of the press at the time shows evidence of the derision and hostility they faced from within a patriarchal culture. During the first world war a wider swathe of women had more opportunity to organise football activities as employees in munition factories, forming factory teams to play each other. The number of women players, teams and leagues grew, as did public interest. Matches between women's teams became great spectacles and, in turn, fundraising events, notably for those needing assistance during and after the war.
There is more being uncovered every day about this period. Ruth Johnson works as a Resources & Information Worker and Women & Girls' Football Development Worker at FURD, said: "A lot of people think that women only started playing football in the last few years so a group of us have come together to form a project group called 'Stoppage Time'".
The project focusses on researching the history and more contemporary accounts of women playing football in and around Sheffield. Ruth has found much evidence of local women's football and associated fundraising during and just after the first world war.
A South Yorkshire Ladies League included teams such as the National Projectile Factory, Vickers and Cooke's from Sheffield, National Shell Factory and Empire Mills from Barnsley, and Doncaster Wire Works. In December 1916 a crowd of 10,000 watched a match between munitions workers from Vickers Works Projectile Shops in Sheffield at Vickers sports ground, raising £100 for the Wounded Colliers Fund. In April 1917 a team representing a local munitions works' beat a Vickers' Works team 5-0 at Oakwell, Barnsley. This charity match attracted a crowd of over 4,000 and a month later an estimated 17,000 watched a charity match involving Sheffield and Barnsley ladies at Hillsborough.
The famous Dick, Kerr Ladies factory team visited South Yorkshire in 1921. Playing at Rotherham in front of 20,000 spectators, they beat Lister's Ladies of Bradford 7-0, raising £800 for unemployed ex-servicemen. They went on to beat Atalanta Ladies from Huddersfield 4-0 at Hillsborough, Sheffield, in front of around 22,000 spectators, raising about £1,000 for Sheffield and Preston hospitals and the Railway Benevolent Fund.
Soup Kitchen Soccer, a webpage by Patrick Brennan researching the way women's football supported mining families during the 1921 and 1926 coal disputes in the North East of England also uncovered evidence of the same in Yorkshire. In 1921 several charity matches took place in the South Yorkshire coalfields to raise money for striking miners. Teams included Thurnscoe, Bentley, Doncaster, Goldthorpe, Woodlands, Highfields, Adwick and Carcroft. The Bentley Ladies' team raised funds for local soup kitchens and their contemporaries in the other villages would have done similar.
Of course, women should always have been at liberty to play football for the joy of playing football or for any other reason they chose. But it is not hard to imagine that this rich tradition of raising funds also helped to build and sustain women's football at a time when women, and working class women in particular, had even less agency and autonomy than they do today.
But this was of course not sufficient to see women's football surviving the narrow minded patriarchy in the FA and in wider society. In fact, it was turned against the women themselves when unfounded accusations of donation money being used as players' expenses formed part of the FA's 'evidence' that a ban on women's football was in order. The threat to the establishment of women having choices, and a political power as they supported workers in dispute, was too much for the FA and their outrageous ban was imposed.
Bentley Ladies were scheduled to play another 'Soup Kitchen' match against Hey's Brewery Ladies of Bradford on Boxing Day 1921. But the FA's ban on 5th December put a stop to this. The growth in women's football and the associated causes it supported had been dealt a violent blow.
Women continued to show resilience and resourcefulness and kept playing whenever and wherever they could in the 50 years under this ban, but so much lost time, resource and momentum has been a big wound to heal.
100 years on after the ban was imposed, it is heartening to see Sheffield's dynamic grassroots football scene.
Alice Rhind-Tutt of the Football For Foodbanks Women and Gender Minorities (WGM) Division says "We were started by a group of players who had been denied football opportunities elsewhere, so decided to make their own. It's wonderful to find similar schemes around Sheffield with the same ethos and attitude."
Football For Foodbanks has quickly become a great role model for using football as a charitable tool to help people in food and period poverty. The women of FURD represent a local body who have used football to raise awareness and campaign against racism since 1995. They came together to play a friendly match - FURD women's first ever 11 a side contest - with participants and spectators bringing foodbank items for collection.
Harper Shillam, another FFF WGM division player says "Amongst all the talk of the vast sums of money in the men's sport today, it was so refreshing to return to our roots. The match itself was a well-fought game against a skillful and well-organised opponent; and to be able to both come together to help fund something as important and crucial as helping those most in need put food on the table is so wonderful."
Alice adds that it was "a fun, friendly and inclusive match that supports local communities to boot! We're really grateful to all the FURD players for welcoming us and being so generous with their donations of food and essentials."
"Thank you to FURD for an amazing match and to everyone who helped organise the fixture." says Harper "Thank you also to everyone who came and cheered us both on. Let's do it again sometime!"
It was indeed a joyous and collaborative occasion and a great echo of, and tribute to, our sisters who did similar 100 years ago and all those who were prevented from doing so.