FURD has several exhibitions that can be hired by other organisations. Most of them can be complemented by other resources from our collection. Please enquire for further information or advice.
Only One Cyrille Regis (2019) Produced by Sheffield Stand Up to Racism with support from FURD, this tells the story of the former England star and how he dealt with the racism he faced in the late 1970s and 1980s. 12 panels, each 84cm x 59cm (A1) See the picture on the right.
Walter Tull: His Life and Legacy (2018) Produced by Folkestone Museum, this tells the story of Tull, one of the first black professional footballers and an officer in the British Army who was killed in action in World War 1. This display complements our Walter Tull comic and other library resources. 18 panels: 13 rectangular 100cm x 80cm; 1 rectangular 100cm x 56cm; 1 egg-shaped panel 100cm x 80cm and 3 egg-shaped panels 70cm x 56cm.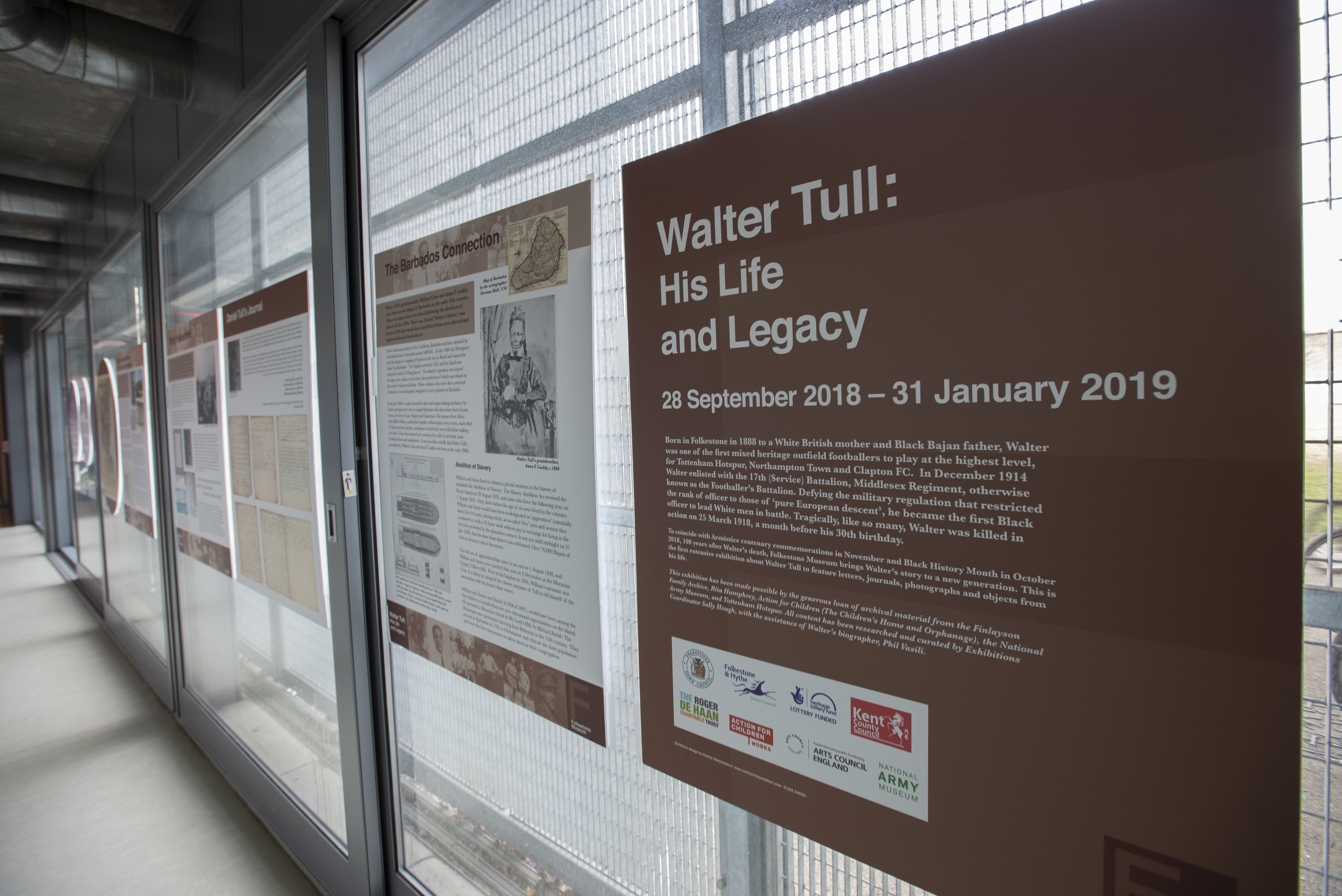 The Arthur Wharton Story (2013) Produced by FURD. This tells the story of the world's first professional footballer of colour, world sprint record holder, professional cricketer and miner in the West and South Yorkshire coalfields. It was produced as part of FURD's Heritage Lottery-funded Arthur Wharton Heritage Project along with an accompanying film, comic, booklet, archive material, website and lesson plans. 12 panels, each 84cm x 59.5cm.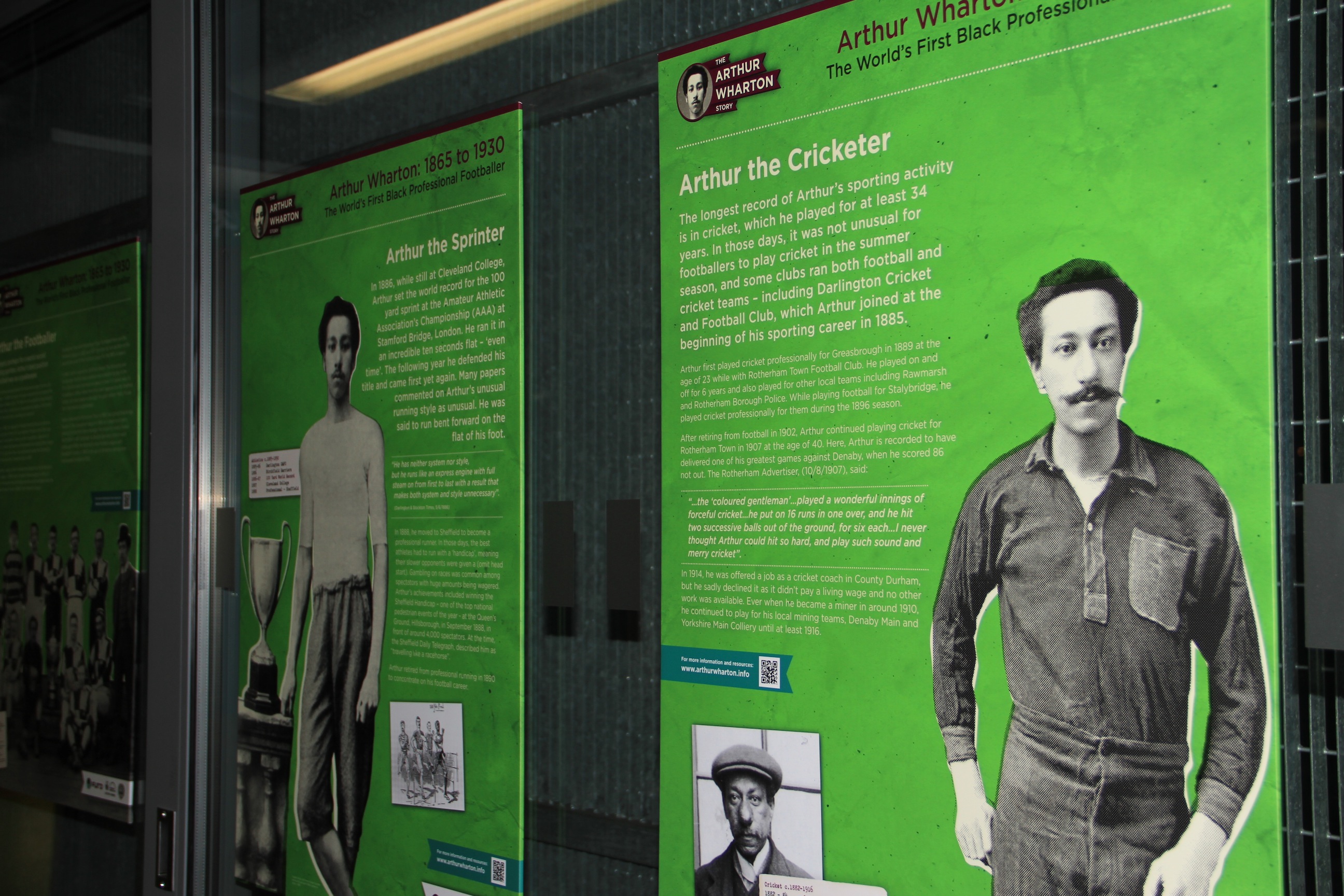 Out of Africa: (c. 2013) Produced by Centre Spot. This documents African footballers' contribution to professional football in the UK. There is also a documentary film and teaching pack which may be borrowed from our library. The display can also be seen online at http://www.outofafricacampaign.com 11 panels; 84cm wide and 60cm tall.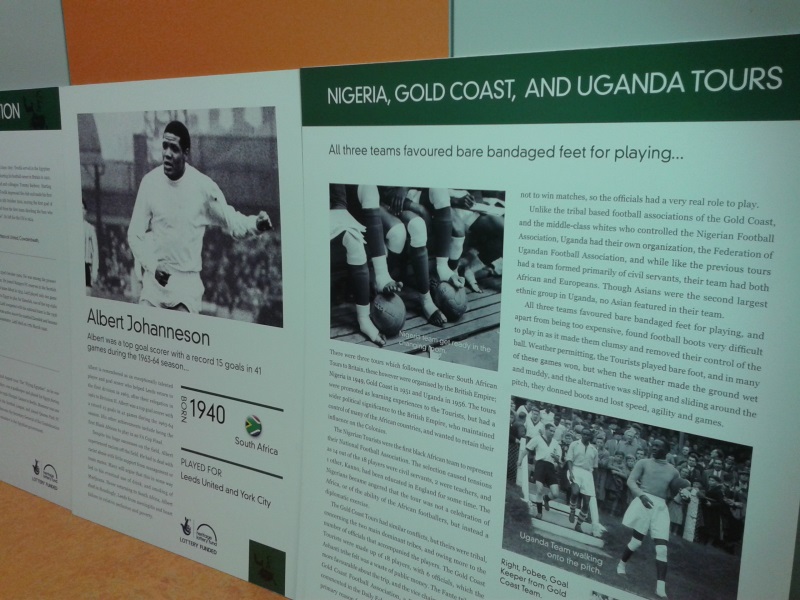 Refugee Footballers in Britain (2012) Produced by FURD. Features footballers from a refugee background who have played in Britain from the 1940s to 2012. The exhibition includes background information about some of the reasons why people have sought refuge. 9 panels, each 82cm x 58cm. It can also be viewed online here: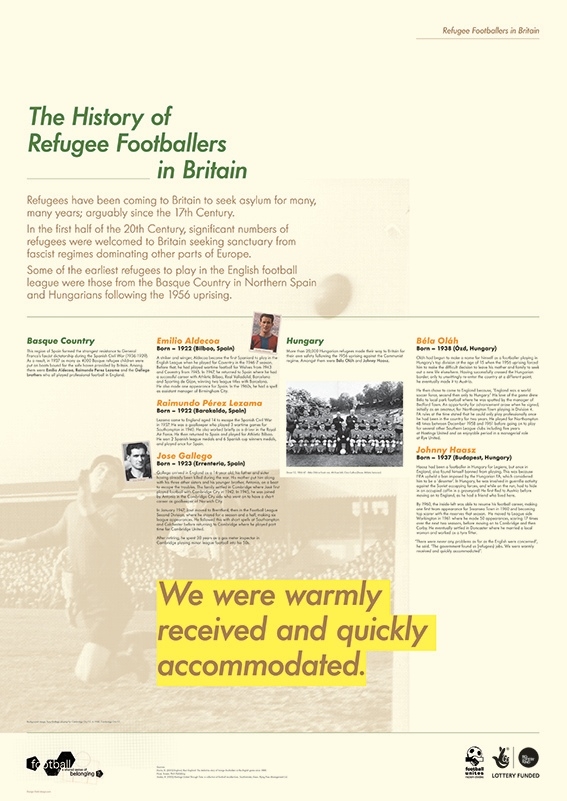 South African Footballers in Britain (2010) Produced by FURD and the District Six Museum, Cape Town, South Africa. This tells the story, in words and cartoon style illustrations, of South African footballers' presence in the British game from the late 19th century to 2010, set against the changing social and political situations in both countries. 63 laminated A3 (42 x 30cm) posters. There is also an accompanying research paper. For more information, see furd.org/content/work-in-south-africa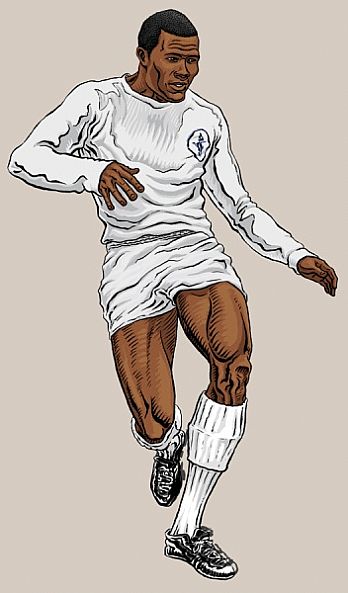 Pioneers, Past Masters and Future Challenges: (c.2007) Produced by Kick it Out. This highlights pioneering footballers from a variety of BME backgrounds and explores issues of equality and diversity in football including faith and gender. 12 x A2 (42cm x 59.4cm) laminated posters. An accompanying education pack is available.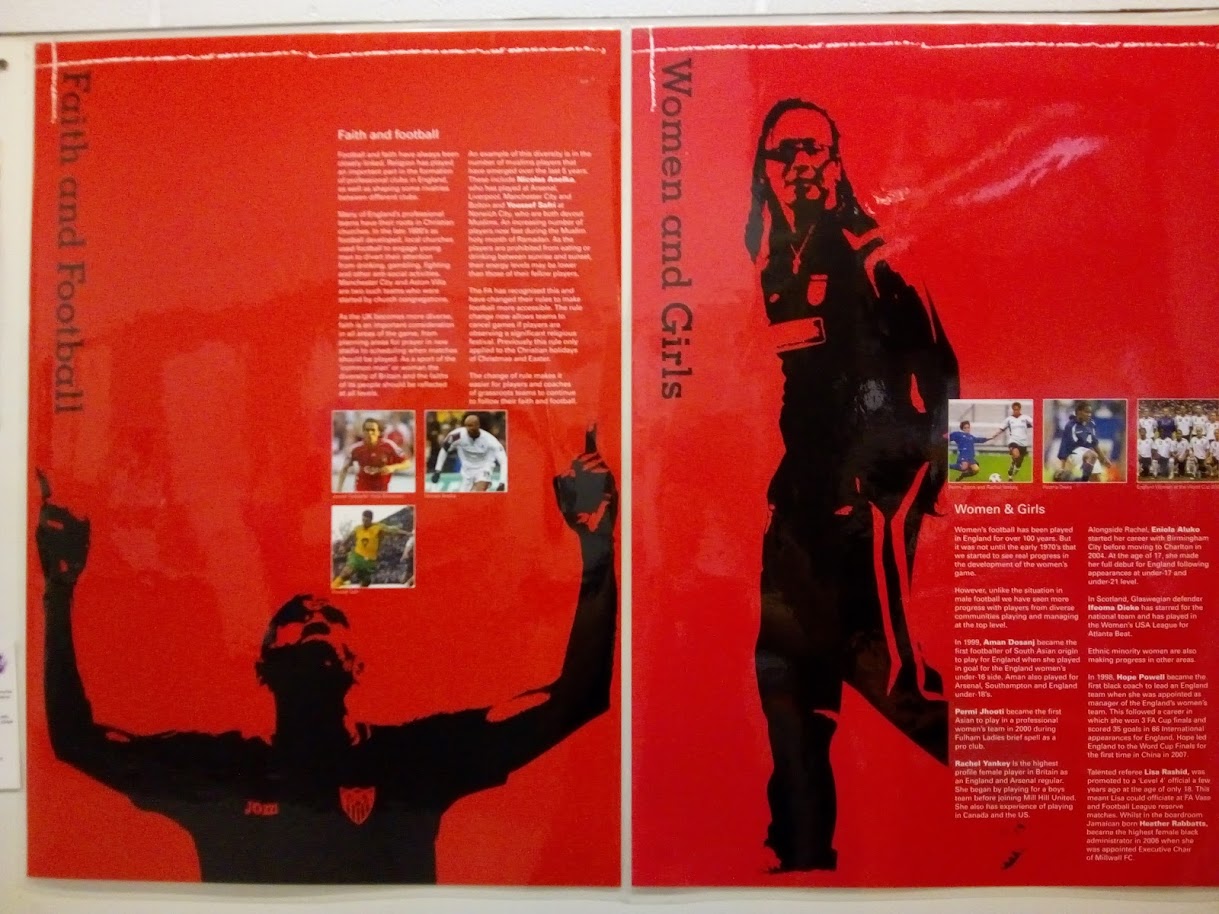 Arthur Wharton (2002) Produced by Doncaster Museums. This details the life of the world's first black professional footballer and world record-breaking sprinter. It focuses mostly on Wharton's connections with South Yorkshire and how he worked as a pub landlord and a miner as well as being a remarkable sportsman. The exhibition combines black history, local history and social history. 7 laminated posters, each 104cm x 69cm.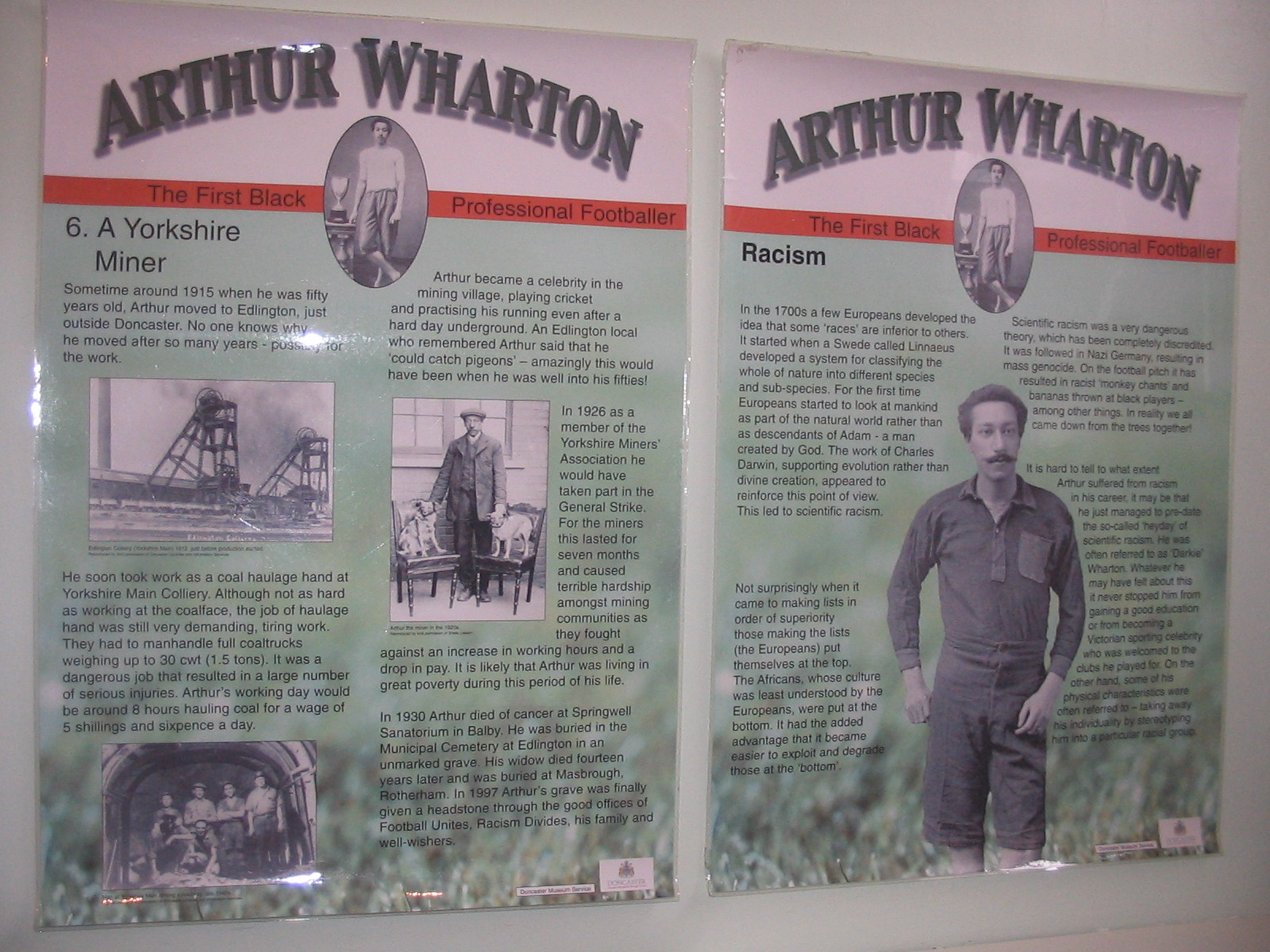 History of Black Footballers (c. 1999) Produced by Kick it Out, Phil Vasili and FURD. Looks into the involvement and achievements of BME footballers in Britain from the beginning of the professional game in the late 19th century to the 1990s. 8 laminated posters, each 104cm x 69 cm.