The 'Offside' exhibition during the 2010 World Cup in South Africa.
Assisted by travel grants from the Department for Trade and Industry, FURD director Howard Holmes and Kick it Out director Piara Powar developed links with the British Council and District Six Museum (D6M) in Cape Town, South Africa. The idea was born of creating an exhibition documenting the footballing links between South Africa and Britain and the effects that racism, the apartheid system and other forms of discrimination have had on South African footballers in both countries from the 19th century to the present.
FURD's role in the project was to research and document the history of South African footballers who played in Britain – a history that stretches back to the late 19th century. The research, written by FURD's Resources and Information Worker Ruth Johnson, Howard Holmes and football historian Phil Vasili, uncovered many fascinating and shocking stories. The resulting text was brought to life by the artists and designers at the District Six Museum using a comic-book style designed to appeal to young people as well as older people on a nostalgia trip! The display included a series of life-size cartoons of key players, some of them dangling from the ceiling and towering over the visitor.
The exhibition set the players' stories against the changing social and political situation in both countries, particularly in relation to their attitudes towards race. South Africa has supplied more footballers - about 130 - to England than any other country beside France and the Netherlands.
The exhibition, titled 'Offside: Kick Out Ignorance – Football Unites, Racism Divides', opened in time for the World Cup finals in June 2010 and remained on show at the museum for a year.
'Offside' looked at racism and other discrimination in football, highlighting the fact that it is still an issue. Its themes, therefore, are wider than those highlighted by our research. It includes the story of Eudy Simelane, former captain of South Africa's women's football team and a lesbian, who was gang raped and murdered in a homophobic attack in 2008. It also highlighted the case of Noko Matlou, another female footballer who, on her debut for South Africa, was made to undergo a physical examination by the referee after the opponents, Ghana, questioned her gender.
The District Six Museum
The District Six Museum acts as a focus for the memories and lessons of the apartheid era. District Six used to be a vibrant multiracial neighbourhood. However, in 1901, black residents were forcibly removed from the area after an outbreak of bubonic plague, and in 1966 it was declared a whites-only area under the Group Areas Act brought in by the apartheid regime in 1950. 60,000 people were forcibly removed to townships on barren outlying areas aptly known as the Cape Flats, and their houses in District Six were flattened by bulldozers.
The Museum is a well-known part of the Cape Town tourist trail and was very busy throughout the World Cup.
It is not just a museum, however, and we were struck by the similarities between their work and ours. It started off as, and remains, a focus for campaigns for justice, compensation and rehousing by former residents of District Six, and acts as a community centre where former residents can keep in touch with each other. It also has a resource centre which cares for archive material, including a large collection of oral histories, and assists with enquiries about the area and the apartheid era. They are involved in a lot of educational work with young people, including inter-generational work with former D6 residents, international exchange projects and digital media projects.
A portable version of the exhibition is available to hire from FURD. It takes the form of 63 A3 posters, around half of them containing text and half containing the illustrations of players.
Our full research paper is now available to borrow from the FURD library, or can be downloaded here.
The Albert Johanneson comic project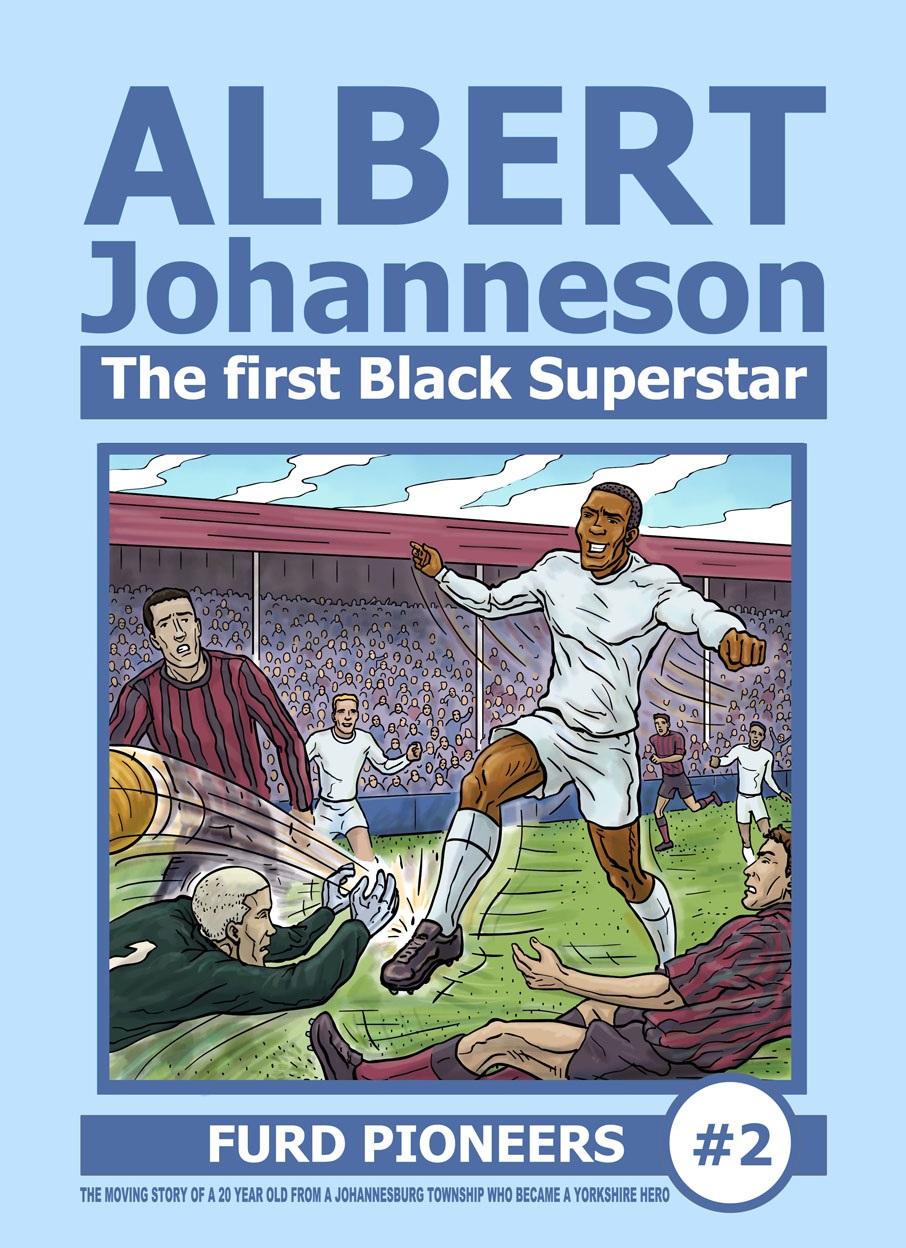 On Saturday 1st May 1965, Albert Louis Johanneson became the first black footballer to appear in an FA Cup Final as Leeds United met Liverpool. Albert was cheered in anticipation by Leeds fans, but also clearly audible were the widespread boos reserved for England's first black superstar.
There were virtually no black professionals in England when, in January 1961, the 20 year old from Germiston township in Johannesburg pulled up his collar against the icy blast as his train pulled into Leeds station.
Albert had grown up in Apartheid South Africa, where state-sponsored racial discrimination was the crude tool by which everyday society functioned; sadly he found early Sixties Britain a deeply prejudiced country where institutional racism was firmly ingrained.
Fortunately for Albert, on the field with Leeds, Jack Charlton and Billy Bremner took it upon themselves to become the winger's minders. Bremner in particular defended Albert against the racist actions of opposition players, fans and club officials.
When new manager Don Revie made Albert his first signing he signalled his determination that lowly Division 2 Leeds were about to build an international reputation. The Real Madrid-style kit soon followed, and as season 1964-5 drew to a close the Yorkshire team were favourites to achieve the League and Cup double. Albert was the exhilarating star of the team, scoring ten times from the left wing that season; but they faltered at the final hurdle, finishing runners-up in both league (to Man Utd) and in the Cup, losing 2-1 to Liverpool.
In 2015 FURD joined forces with illustrator Archie Birch from Cape Town to publish a 24-page comic book telling Albert's inspirational, yet sadly poignant story. The partnership project built on the success of a previous comic collaboration 'Arthur Wharton, Victorian Sporting Superstar' between Birch and Howard Holmes, founder of FURD.
Former Leeds and Sheffield United star Brian Deane welcomed the acknowledgement that Albert received in the year that marked the 50th Anniversary of Albert's appearance in the FA Cup Final. Deane commented:
'As young, football-crazy lads growing up in Chapeltown, Leeds, in the early 1970s, Albert Johanneson was a name that we were all familiar with. Although his career was over, we knew he had been a great player for Leeds United and an inspiration for the next generation of black footballing talent in the city.
He was a true pioneer, and one can only imagine how hard it must have been for Albert as the only black person in the stadium, never mind just on the pitch, in an age when there was open hostility against people purely because of the colour of their skin'.
The comic received backing from the SA-UK Seasons 2014-15 programme, the Fare Network and Professional Footballers Association in the UK, and the South African Football Players Union.
The South African media, exhibition and comic book launch was then held on 18 and 21 March 2016 at the District Six Museum. Attendees included Lucas Radebe, Quinton Fortune, Graham Stuart and Mark Bright. Representatives of the South African Football Association, and former Glenville and Cape Ramblers players, contemporaries of Albert's, were also present, sharing stories and memories of Albert. Stan Henkeman of the Anti-Racism Network of South Africa, and Karlind Govender from Cure Racism South Africa also participated on Human Rights Day.
Following the star-studded launch in Cape Town, the comic was then launched in Johannesburg on 27th April 2016.
Barney Gaffney, the teacher/scout who recommended Albert 'Hurry Hurry' Johanneson to Leeds United in 1960 attended the launch of the comic. Barney was joined by contemporaries who played alongside Albert in the late 1950s.