Football and Connected Communities:
FURD worked in partnership with a team of researchers on this 2016 project to research the role of football in the lives of young people.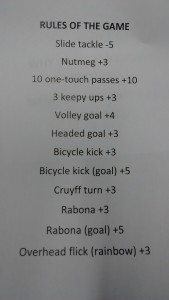 The project was funded by the Arts and Humanities Research Council as part of their Connected Communities programme, and focused on young people aged between 14-18, initially in Sheffield, to research three specific areas:
- The increasing cost of watching live football and the rising engagement with football through the media;
- The dominance of the premier league and the decreasing sense of loyalty that communities have to their local clubs; and
- The relationship between young people and professional footballers, and their jobs as role models to their fans.
The team of researchers consisted of FURD's Dr Chris Stone, and Dr Anita Mangan, Dr Olu Jenzen and Dr Michael Skey from Keele University, University of Brighton and the University of East Anglia .
The team carried out research with various groups, including a group of young mainly Muslim women from FURD's female football initiative, and a group of teenage boys who attend football sessions at the U-Mix Centre coordinated by Sheffield United Community Foundation. They also held a research day at King Ecgberts School in Sheffield to investigate the role that football in social media has to play for teenagers aged 14-16.
At the end of the project, FURD organised a 'Football Circus' at the U-Mix Centre on 14th May 2016 in recognition of the findings of the research and a celebration of contemporary football consumption. Headlining the event was Dan Magness, football freestyler, world record holder and occasional Soccer AM presenter. Enjoy a short film of the event here:
For more information, short films and other resources, visit the project website here:
The research findings, published in the form of a matchday programme, can be seen here - or ask FURD if you'd like to see a printed copy - they're available from our library.
Football: A Shared Sense of Belonging?: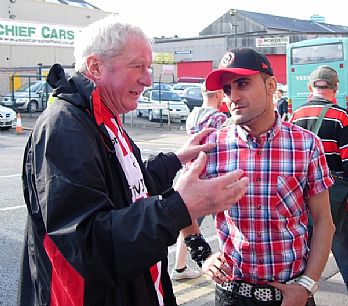 This was a 3-year research project funded by the Big Lottery, which ran from 2010 to 2013. The project sought to increase our understanding about how cultural activities such as football, and sport more widely, can benefit new arrivals to this country in achieving a sense of mutual belonging.
The research was led by Dr Chris Stone but opportunities were available for interested people, in particular those from a refugee background themselves, to take part in the research by sharing their own experiences and talking to others about the issues raised.
The 88 page final report can be downloaded HERE - or you can borrow a printed copy from the FURD library.
From September 2012 to March 2013, a volunteer manager, Tracy Litterick, was employed to engage refugees and aslum-seekers in the project. This led to the establishment of the 'Belonging Group' which continues to run at the U-Mix Centre. Weekly sessions enable participants to play football, eat, meet others, use the gym, music room and dance studio and 'positive activities' room and to help them to feel more a part of the community. As a result of this, several refugees and asylum-seekers joined FURD staff and trustees at a civic reception at Sheffield Town Hall with Lord Mayor John Campbell in January 2013.
Some participants have also taken part in FURD's awareness-raising work in schools by talking to pupils about their experiences.
In 2012, the 'Refugee Footballers in Britain' exhibition was compiled as part of the project, featuring footballers with a refugee background, from Spanish Civil War refugees playing in the 1940s to more recent stars such as Fabrice Muamba. The exhibition was researched and written by FURD's Chris Stone and Ruth Johnson and includes background information about the players' countries of origin and reasons for seeking refuge. It can be viewed online here. The 'hard copy' can be hired from FURD.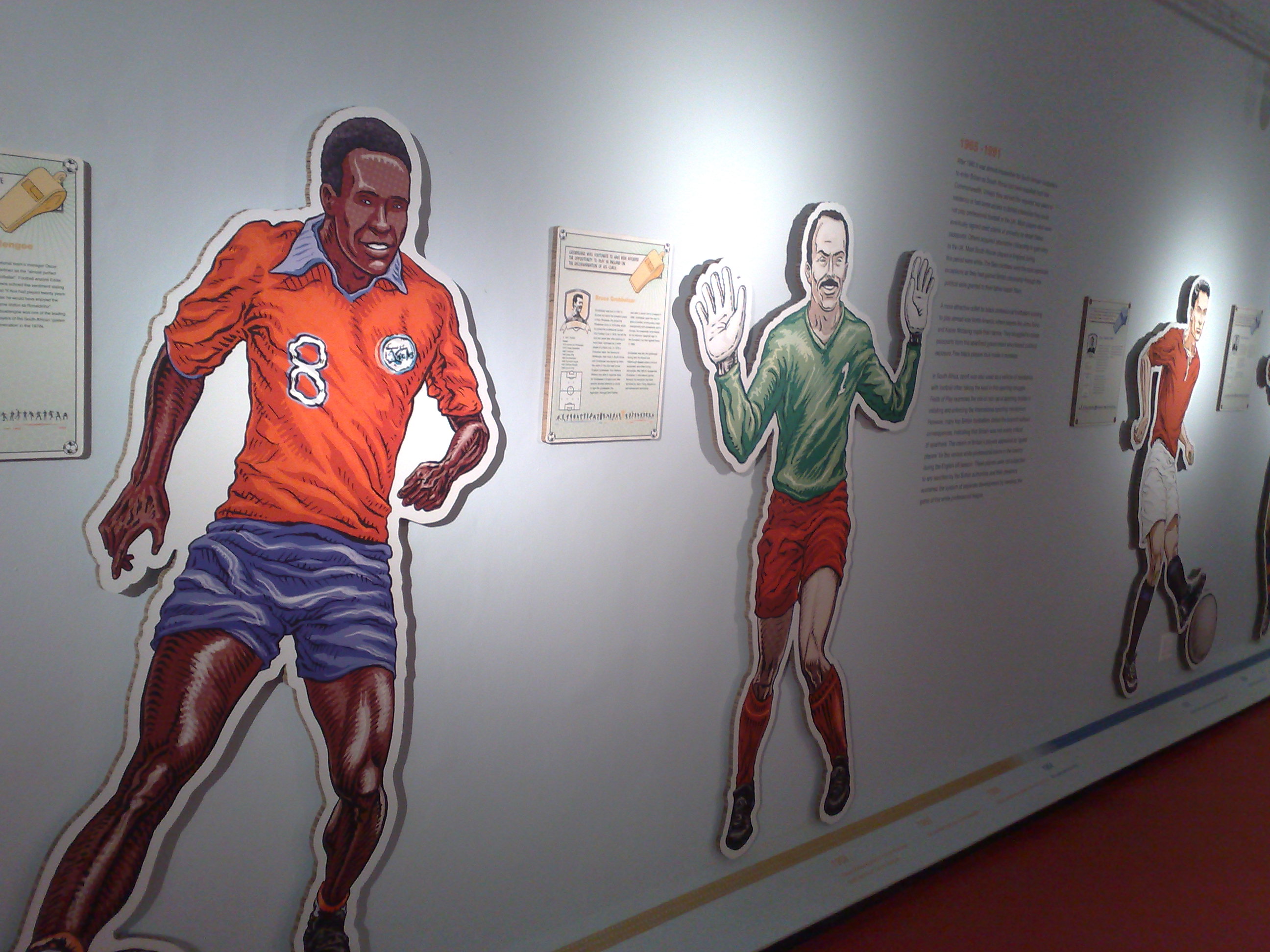 The History of South African Footballers in Britain:
In partnership with the District Six Museum in Cape Town in the lead up to the 2010 World Cup finals in South Africa, FURD reseached the history of South African footballers playing in the UK. The research was then transformed by the museum into a major feature of the 'Offside: Kick Out Ignorance – Football Unites, Racism Divides' exhibition, which opened in time for the World Cup finals in June 2010 and remained on show at the museum for a year. The 86 page research paper can be downloaded here or a print copy can be borrowed from the FURD library.
Sheffield Divided or United? A Study of 'Race' and Football: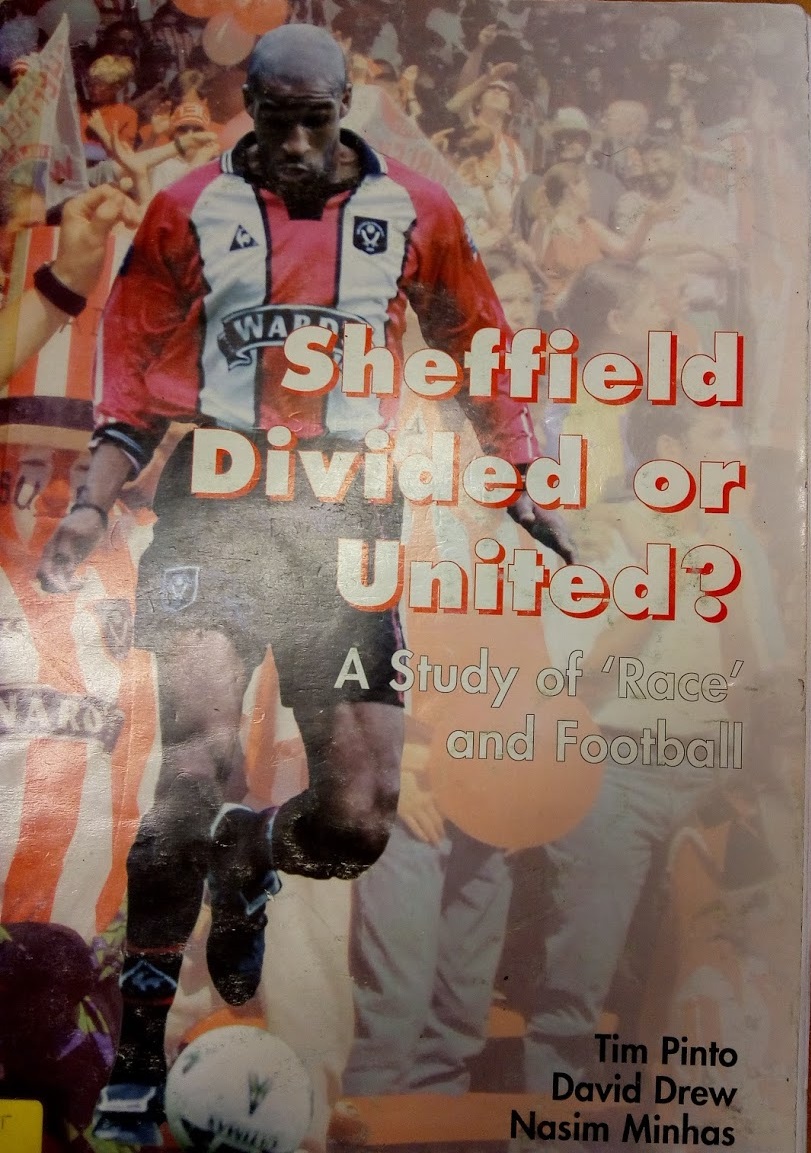 This was a survey carried out for FURD by Tim Pinto, Nasim Minhas and David Drew of the Survey and Statistical Research Centre at Sheffield Hallam University in 1997. It was a survey of Sheffield United Football Club, its fans, residents living nearby and young people in local schools and youth clubs. It examined supporters' and local people's experience of racism, and what supporters thought of racist fans. The report found many local residents from ethnic minorities were reluctant to leave their home on match days due to a fear of racist abuse. The survey also found many fans had been aware of racism at or near the ground. The proportion of spectators at Bramall Lane who were from an ethnic minority background was tiny compared to the ethnic make up of the local community. There was, however, widespread support for anti-racist measures to be implemented.
The report can be read in, or borrowed from, FURD's library.