Arthur Wharton was the world's first Black professional footballer. Despite his sporting prowess, he was never fully accepted and died a forgotten man.
Arthur Wharton was born in Jamestown, Accra, Gold Coast (now Ghana) in 1865. Coming to England to study in about 1882, Wharton soon made a name for himself in athletics. Winning the Amateur Athletics Association 100 yards sprint in a world record time of 10 seconds (the first world record), he retained his title in 1887. A supreme all-round athlete, his other sports were cricket, cycling and football.
While playing for Darlington as a goalkeeper Wharton was spotted by Preston North End in 1885 - 86. He joined them the following season during which they reached the semi-finals of the FA Cup. By 1889, he had turned professional, playing for Rotherham Town, Sheffield United, Stalybridge Celtic and Ashton North End. He finished his footballing career in 1902 playing for Stockport County in Football League Division Two. His last match was against Newton Heath in February 1902. An unorthodox and entertaining performer, he had a phenomenal punch as a keeper and, with his sprinting background, sometimes played on the wing.
Born into an upper middle class family his decision to enter professional sport brought him down to a lower social level. Rejected by the Gold Coast Colonial Administration for a civil service post, his sporting prowess was regarded as 'inappropriate' for a colonial official. After he retired from football, he spent much of the rest of his working life as a colliery haulage hand in the South Yorkshire pits. He died in December 1930 and was buried in a third-class grave in Edlington, South Yorkshire.
Arthur at Sheffield United
During the 1894 - 5 season, Arthur, the fastest man in Britain between 1886 - 8, played three games for United's first team - in goal. It wasn't some quirk of the Blades' management to restrict one of the fastest men on earth to a small area at one or the other end of the pitch. Arthur had played in goal for Darlington, Preston North End and Rotherham before being enticed to Sheffield by Tom Bott, a United director and unofficial team manager. Bott had been Arthur's manager during his professional running days. What may have made Arthur's mind up was the additional offer of taking over the Sportsman Cottage pub in Button Lane. He liked a drink.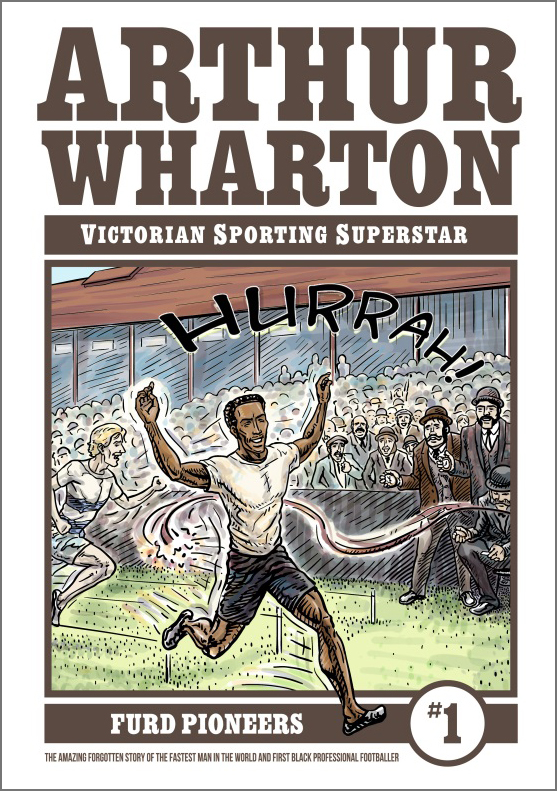 Unfortunately for Arthur, United had also signed a very promising 19 year old - and 13 stone but bulging fast goalkeeper, William 'Fatty' Foulke. For the first time in his sporting life, Arthur could not dislodge his competitor for the first team spot. He played only three games, against Leicester Fosse, Linfield of Belfast and Sunderland. In his last game at Roker Park, Arthur made his debut in the First Division. The 'Cutlers', as the Blades were then known, lost 2-0. Arthur, the goalkeeper with the 'prodigious punch', was at fault for one, his prodigious punching letting him down when he went to fist the ball away and missed it completely.
Arthur's antics
During the 1890s to be a goalkeeper, you had to be mad, bad or dangerous to know. Goalies could handle the ball anywhere in their half of the pitch and could be charged down with or without the ball. Trying to grab the ball in a crowded goal mouth, the goalie needed the protective and attacking skills of a Thai kick boxer. Arthur didn't jut fist the ball away with his prodigious punch, he had to get his retaliation in first.
His entertaining presence between the sticks was not appreciated by all:
"Good judges say that if Wharton keeps goal for the North End in their English Cup Tie the odds will be lengthened against them. I am of the same opinion. Is this darkie's pate too thick for it to dawn upon him that between the posts is no place for a skylark? By some it's called coolness - bosh."
'Whispers', a columnist in The Athletic Journal, 1887.
"In a match between Rotherham and Sheffield Wednesday at Olive Grove I saw Wharton jump, take hold of the cross bar, catch the ball between his legs and cause three onrushing forwards to fall into the net. I have never seen a similar save since and I have been watching football for over fifty years."
Sheffield Telegraph & Independent, 12th January 1942
Arthur's Demise
Arthur was past his best when he joined United. He'd had a great career in sport, but the high points were the 1880s. He was AAA 100 Yards Champion in 1886, setting a world record of 10 seconds. He retained the title in 1887. He then turned professional and won the unofficial championship by winning the September Handicap at Queens Ground, Sheffield, in 1888. Arthur's greatest football moment was playing in the semi-final of the FA Cup in 1887 for Preston NE, against West Bromwich Albion. Although hotly tipped to win the FA Cup, Preston lost 3-1. Arthur also played professional cricket until at least his forties.
Arthur was 'lionised' in the communities in which he lived. He became a Northern working-class hero, despite coming from a wealthy Ghanaian background. Like any other black person, he suffered racism, but he was not a passive victim. He fought back - this is documented - and he was a proud man without being arrogant.
For 67 years he lay buried in an unmarked grave in Edlington Cemetery. Football Unites-Racism Divides raised the money to fund the writing of Wharton's biography. Enough money was raised to place a gravestone on Arthur's plot - he is now visible once more.
By Phil Vasili.
Arthur Wharton Heritage Project
In 2011, FURD was awarded a grant by the Heritage Lottery Fund to run a 2-year Arthur Wharton Heritage Project, working with schools in South Yorkshire to uncover more about Wharton's life and times, particularly his cricketing and mining careers. A wealth of educational resources were produced during the project, including a documentary film, available on our Arthur Wharton Story site - see the link below.
Read the book
Wharton's story can now be read in detail in his biography, 'The First Black Footballer: Arthur Wharton 1865-1930' by Phil Vasili, published by Frank Cass. The ISBN for the paperback edition is 978-0714644592 and for the hardback edition is 978-0714649030. It can also be borrowed from the FURD library.