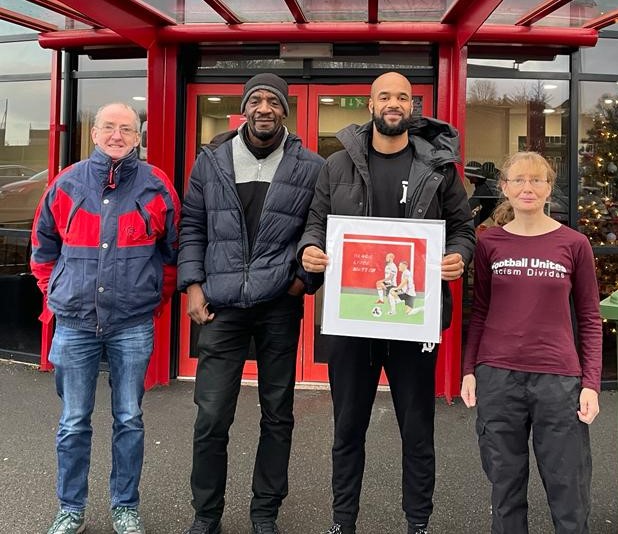 On 17th June 2020, after a 100-day shutdown due to coronavirus, Premier League football resumed and the first game played was Aston Villa v Sheffield United. In a display of solidarity against racism, all Premier League teams replaced the shirt names with 'Black Lives Matter'.
Before the game began, Sheffield United forward David McGoldrick proposed 'taking a knee' to captain Billy Sharp and they then gained the support of senior Aston Villa players and the match officials.
Following a one-minute's silence for those who had died during the pandemic, all the players, officials and coaching staff knelt for ten seconds to demonstate their support for the Black Lives Matter movement. No spectators were allowed at the match but the players' message about social justice was seen and repeated around the world.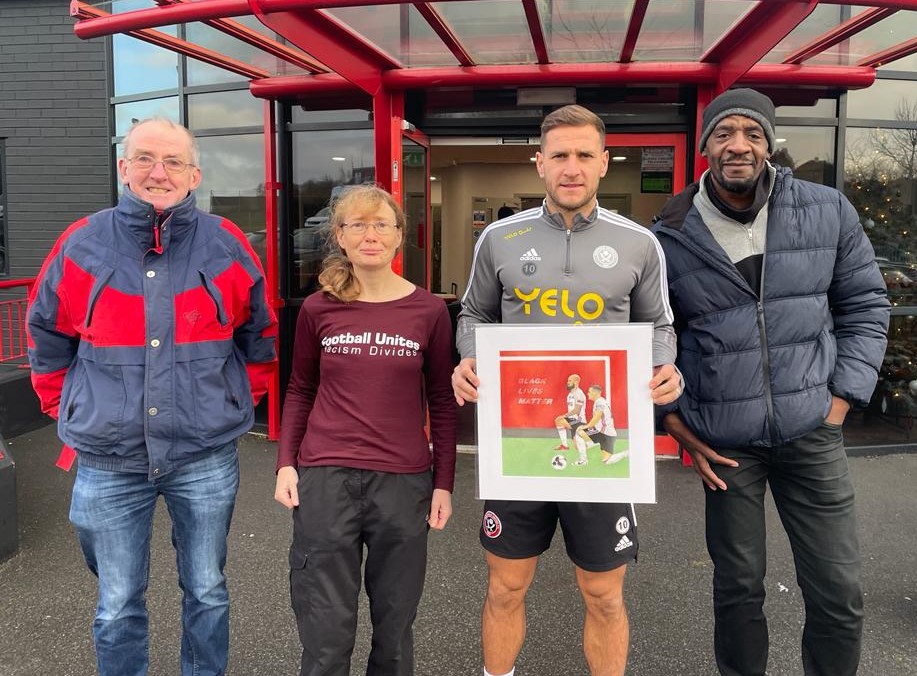 To commemorate Sheffield's part in creating this piece of sporting history, Sheffield artist Chris Houlton has created an artwork, titled 'Shoulder to Shoulder', depicting McGoldrick and Sharp taking the knee. The piece was commissioned by the Sheffield Home of Football group which campaigns for better recognition of Sheffield's significance in the history of football. The original artwork, which was created using coloured biros and gel pens, has been donated to the Sheffield Home of Football collection at Sheffield Archives.
FURD's Simon Hyacinth and Ruth Johnson teamed up with Sheffield Home of Football trustee John Wilson yesterday to present David McGoldrick and Billy Sharp with framed prints of 'Shoulder to Shoulder' to thank them for taking a lead in challenging racism in football. David McGoldrick said,
"I'm proud to have played a part in starting it and proud that it's still going. I used to hear racism at some grounds as a player. There's still a bit, not as much as there was at matches, but some players get racist abuse on social media. I just hope I can help to improve things and make it easier for the next generation".