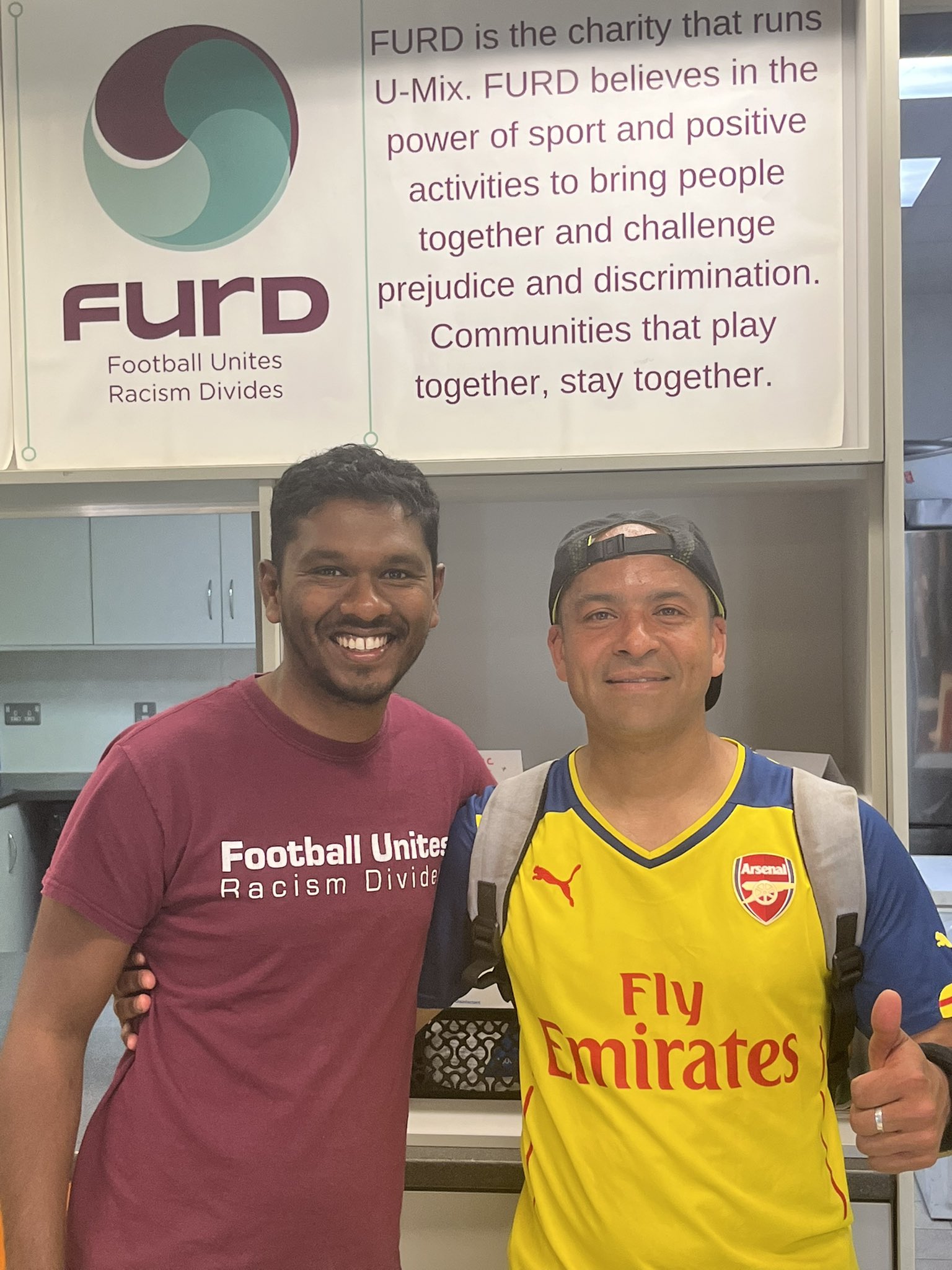 On Wednesday 15 June, a team of Sheffield Hallam University staff and students travelled to the U-Mix Centre to take on a team of refugee and asylum seekers from FURD's Belonging group.
As well as playing, Sam Coulby (SHU People Portfolio Operations Manager) had an important role in ensuring that the day helped raise funds for both FURD and the University's Sanctuary Scholarships scheme. Sam explained how the idea came about:
"In November 2021, we ran an Inclusive Hallam event titled 'Refugees Welcome: Voices From a City of Sanctuary' at which we encouraged attendees to raise funds for the University's Sanctuary Scholarships scheme, which supports talented students who have sought asylum in the UK. That was when I first had the idea to arrange a fundraising football match against a team of refugees and asylum seekers in Sheffield. Out of the blue I was then invited to play in a match that the University's Refugee Rights Hub had organised with FURD, against a team of refugees and asylum seekers. I thought, why not put the two together and raise funds for both?
"Thanks to the generosity of everyone who's contributed, we've raised over £500, with half going to FURD and half to the Hallam Sanctuary Scholarships fund. But I also hope we've been able to spread awareness of the issues faced by those seeking sanctuary. I also wanted to highlight how football, one of my first loves, can be a force for good and bring people from across the globe together around a common passion.
"Just getting to meet all the players from the FURD project was the real highlight. They made us feel so welcome and everyone had fun. Each week FURD brings together refugees, asylum seekers and migrants living in the city to train, play, meet new people and share a sense of togetherness. FURD put on some lunch for them and also help them navigate routes into education and employment.
"On the day we had so many players – around 40 in total – that we decided to play a six-team tournament. I've honestly never played in a more inclusive environment! It was such a diverse group with mixed teams in terms of gender, ethnicity and nationality. Apparently, we had 20+ nationalities represented and a mix of Hallam staff, students and the lads from FURD."
FURD would like to thank Sam and everyone who was involved in the day or donated to the fundraiser. We'd be delighted if anyone feels inspired by this to fundraise or donate to support FURD's work - please use our Just Giving page below. Thank you!
https://www.justgiving.com/f-u-r-d